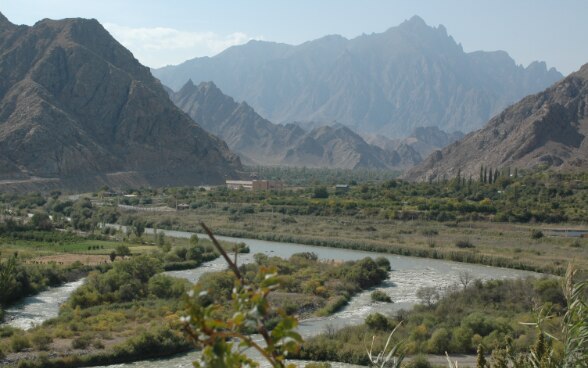 A dry and empty plot
Ishkhan Aslanyan (42) stands on the edge of his huge fruit garden and looks down at the little pond surrounded by hills and wild plants, which has once inspired him to buy this dry and almost empty plot some six years ago. By then, he was not sure whether it would be worth to start a fruit garden in Meghri. Meghri is the southernmost region of Armenia bordering with Iran in the south and Azerbaijan in the west and east. From the capital Yerevan, the biggest marketplace in the country, it is at least eight hours drive across four high mountain passes.
After living a couple of years abroad as a migrant-worker, one thing Ishkhan was sure of was that he wanted to settle in his homeland. "Without these mountains I am nothing in this world," he proudly says, admiring the high naked rock deliberately standing out against the blue sky. "This rock gives me energy," he continues, gazing at it.
The mountains that surround Meghri heat up the area during the day and keep the warmth during the night, thus creating a unique subtropical climate in this part of Armenia. This allows to grow pomegranate, fig, persimmon, and even kiwi, not to speak of early cherries and apricots.
By profession, Ishkhan is an engineer-economist, but he comes from a family of agronomists and wine producers. "The inclination to gardening is already in my genes," he states with a big smile. With the start of the project "Markets for Meghri" (funded by Switzerland, implemented by the Center for Agricultural Research and Development) in the region, Ishkhan began to take part in different trainings on how to take good care of fruit trees. "This knowledge inspired me to start a fruit garden. It gave me confidence to process fruits first from my own garden and now even from the region," he admits.