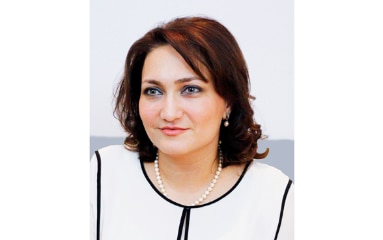 Shahla Ismayil is one of the most respected and experienced female human rights defenders and gender advocates in Azerbaijan. She is passionate about Azerbaijan and wants to contribute to the country's development through women's empowerment and participation. She says working in this field is a moral imperative for her and nothing will stop her from fulfilling this task she chose for herself. Being a Bill Maynes fellow of the US-based Eurasia Foundation, as well as John Smith Fellow (UK), Shahla has been the author and director of more than 100 projects and programs in the field of human rights and gender equality. She has published more than 120 articles and publications both within the country and abroad. Her cooperation portfolio includes a list of over 50 international institutions, including UN agencies, EU, OSCE, Council of Europe, Konrad Adenauer Stiftung, USAID, Asian Development Bank and many others. Currently, she chairs the Women's Association for Rational Development (WARD), established in 2002, which has 4 priority programs – gender equality, economic development, healthcare and peacebuilding. Shahla is also the Attorney of Human Rights House Foundation in Azerbaijan and the country advisor for two grant-making women foundations.
On the eve of 8 March International Women's Day, we asked Shahla what worried her most in Azerbaijan nowadays. She said outmigration is a big challenge and this disturbs her a lot, as when people leave, their determination for improvement also diminishes. "Poor records on the overall quality of education and healthcare reduces the space for equal access and decent services in these areas. Both men and women of Azerbaijan tend to leave the country for better education opportunities and healthcare services. Some leave forever and it is so sad to observe this migration, because we are at the moment when every single citizen matters. Escaping from the problems for a better life will never lead us to a solution. We have to switch from personal level to the national one. We have to seek for better solutions for the whole country, not only for our families. This is the most alarming issue for me now."
We also asked about Shahla's assessment on women's position in Azerbaijan. She said: "If you compare with 10-15 years ago, the situation regarding women's rights in Azerbaijan has changed to the better in some areas – more opportunities, more emancipation, more awareness and more acknowledgment. These improvements could be obtained through systematic joint efforts of the government, civil society, mass media and international organizations. However, some areas have obvious declines. For example, the sex-selective abortions. With the introduction of modern technology and the overall reduction of fertility rate over the last decade, we observe the sad consequences of this patriarchal and ugly phenomenon. The dominating son-preference made Azerbaijan getting the second place for sex-ratio gap in the world. And this patriarchal approach mirrors the deeply-rooted stereotypes in society – restrictions, perceptions, violence…. There is still a long way to go - how can we claim for gender equality if the sex-selective abortion remains a top issue on human rights agenda?! For instance, we want more women to be represented in our parliament, but in order to achieve this, a woman should be born first!"
Despite of all current difficulties and challenges, Shahla remains optimistic about the future of the country due to its main resource – the people. She also believes that the national values - honesty, courage, wisdom, dignity – will support the citizens to withstand the hard circumstances and they will ultimately enjoy the bright future they deserve. 
The Swiss Cooperation Office as part of the Swiss Embassy worked with Shahla Ismayil to design a very useful book for business women entitled "101 rules for business women" and to conduct a gender assessment survey in cooperation with UNDP, the findings of which will be used as baseline data for a major women's economic empowerment project in Azerbaijan in 2017.