Embassy of Switzerland in Azerbaijan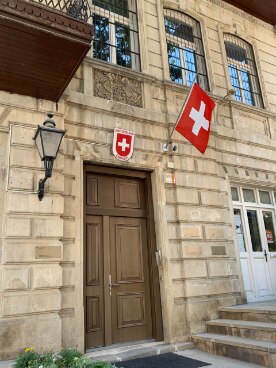 As the official representation of Switzerland, the Embassy covers all matters concerning diplomatic relations between the two countries. It represents Swiss interests in the areas of political, economic, financial and legal affairs, as well as science, education and culture.
Coronavirus (COVID-19) – Information for Swiss citizens
Swiss citizens travelling abroad are advised to register on the Travel Admin App of the Federal Department of Foreign Affairs (FDFA).
FDFA Focus Coronavirus (2019-nCoV) (de, fr, it)
Other source of important information about COVID-19 worldwide: World Health Organization WHO

You can find more information on the situation and measures in Azerbaijan on the following website:

Swiss citizens wishing to visit the Embassy are kindly requested to make an appointment by e-mail or phone (see contact details on the right-hand side of the screen).

Information regarding entry into Switzerland
Effective from 02.05.2022, Azerbaijan is no longer considered a high-risk country. The normal entry requirements apply again to any person entering Switzerland.
For further information, please consult the webpage of the State Secretariat for Migration (SEM) and of the Federal Office of Public Health (FOPH).

Please note: if your trip includes stops in other foreign countries, it is your responsibility to check the travel restrictions in force in those countries.

Switzerland's Online visa system
Visa customers should book a time slot online.They can submit their paper application with documentation and passport through a mandated third person (simple Power of Attorney), if the finger prints were captured less than 59 months ago and can be copied. In case copying is not possible, the customer will be invited to come in person to the visa section so that the finger prints can be captured again.
Important notice from the visa section:
Currently, there are no appointments are available within the next 14 days. In urgent cases (medical reasons, important business travel), please contact the visa section by e-mail, stating the reasons and the planned date of travel: baku.visa@eda.admin.ch