Welcome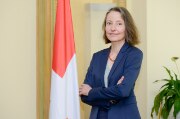 Dear visitors,  
Welcome to the official website of the Embassy of Switzerland to the Republic of Azerbaijan and to Turkmenistan, with residence in Baku. Having taken up my duties in summer 2019, it is an honour and a pleasure for me to serve as Swiss Ambassador to these two countries.
Our Embassy is the official representation of Switzerland in Azerbaijan and deals with all diplomatic matters between the two countries. It represents Swiss interests in the areas of political and economic affairs, international cooperation, culture, science and education. The Swiss Embassy in Baku also aims at maintaining and developing the bilateral relations with Turkmenistan.
The relations between Switzerland and Azerbaijan have deepened ever since the establishment of diplomatic relations in 1992. Nowadays, the two countries enjoy friendly relations in a wide range of areas, including the political, economic and cultural spheres. 2019 marked the 20th anniversary of the presence and active engagement of the Swiss bilateral technical cooperation in Azerbaijan. 
I hope that this website will help you discover more about Switzerland and spark your curiosity about the history, culture and many other interesting aspects of my country.
To stay informed about the Embassy's activities, please follow us on Facebook! The Embassy's team is at your disposal for any question which you might have: baku@eda.admin.ch
With best regards
Muriel Peneveyre

Ambassador of Switzerland to the Republic of Azerbaijan and to Turkmenistan