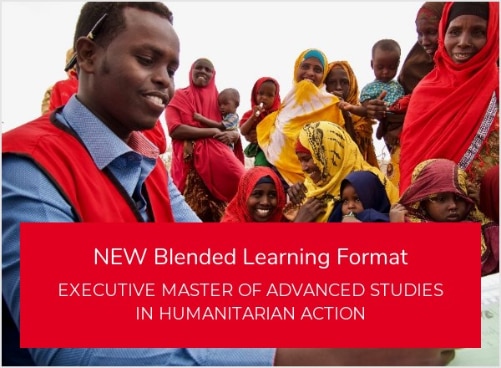 NEW Executive Master programme
Our new MAS is a unique, blended learning postgraduate course on humanitarian action providing current and future humanitarian professionals with the managerial, theoretical and practical skills needed to optimize responses to humanitarian crises.
Thanks to its flexible and modular programme, our Master is tailor-made around you and your needs. Participants can choose from two options to organise their studies: either a 14-month consecutive course, or a flexible two-three year course.
Only one term (three months) of the MAS programme is residential in Geneva, the other three terms are online, meaning that you can follow the programme from anywhere you are based in the world.
Our MAS programme has been developed in response to the growing need to understand, question and reform today's humanitarian system, and it is delivered in collaboration with our partners, the International Committee of the Red Cross (ICRC) and Médecins Sans Frontières (MSF).