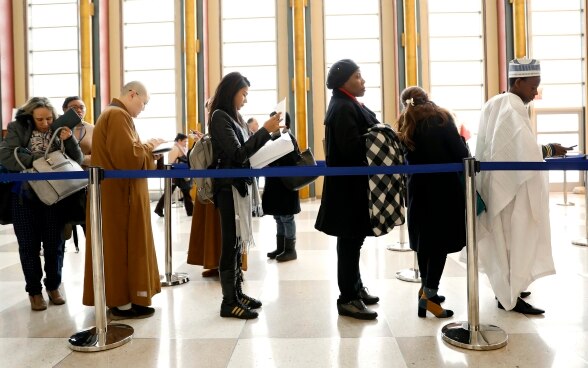 Gender equality is a priority in Switzerland's domestic and foreign policy. One of the core issues in gender equality is ensuring social protection for women and girls. Switzerland's comprehensive social insurance system offers the population an extended protection against financial and social risks linked to maternity, old age, death, medical care, accident, invalidity and unemployment. Moreover, our old-age insurance is universal and takes into account to a large extent domestic activities and care for relatives, which is particularly favourable to women. Switzerland will therefore focus on promoting such regimes at this year's CSW session.
Promoting equal pay for equal work is another of Switzerland's priorities. Equal pay benefits not only women and their families but the entire economy and society as a whole. It also makes it considerably more worthwhile for women at all levels to enter (or re-enter) and remain in the labour market, which at the same time strengthens their social protection. In addition, Switzerland will advocate for the recognition and valuation of unpaid care and domestic work, which is disproportionately done by women.
At the international level, advancing the social protection of women and girls and their access to high-quality and affordable basic services, such as health and education, is a basic principle of Switzerland's development cooperation and engagement  in conflict situations and fragile contexts. Switzerland supports programmes which ensure the inclusion of particularly vulnerable groups and women, e.g. through health insurance systems. In Tanzania, for example, the establishment of universal health coverage has given freely accessible health services to 6.5 million people – mainly women and children – in rural areas. This community-based model is now being offered nationwide. Agricultural insurance is another example of how social protection can be improved for women and poor sections of the population. In Bangladesh, some 340,000 smallholder farmers – mainly women – have benefited from a Swiss programme that provides agricultural advice on mitigating climate-related risks and on crop failure and livestock insurance. Through these efforts, Switzerland recognises the importance of providing functioning basic services and better social protection as a means of improving not only gender equality but also socio-economic development and poverty reduction.
In addition to the official debates and negotiations on the outcome document, Switzerland is organising two high-level side events on its priority themes. One of these events, in collaboration with the International Labour Organization (ILO), addresses the issue of closing the global gender pay gap. The other, which Switzerland is organising in collaboration with the Organisation for Economic Co-operation and Development (OECD), discusses unpaid care and domestic work by women. In addition, numerous bilateral meetings are planned between the head of the Swiss delegation and other states as well as high-ranking decision-makers from the UN (including UN Women). The Swiss delegation is led by Federal Councillor Alain Berset, head of the Federal Department of Home Affairs (FDHA). Switzerland is also represented by Markus Seiler, Secretary General of the Federal Department of Foreign Affairs (FDFA) and deputy head of delegation, and by Sylvie Durrer, director of the Federal Office for Gender Equality (FOGE).
The CSW is the UN's central body responsible for gender equality. As in previous years, the official delegations are set to be joined at this year's CSW session by over 5,000 NGO representatives. There will also be more than 450 side events complementing the official two-week programme.
---
Further information:
CSW63 UN Women
FDFA strategy on gender equality and women's rights
Women's Human Rights app
SDC – Gender equality
Federal Office for Gender Equality (FOGE)
Federal Social Insurance Office (FSIO)
Twitter account of the Federal Office for Gender Equality
Twitter account of Switzerland at the United Nations
Address by Federal Councillor Alain Berset (fr)

---
Address for enquiries:
FDFA Information
Federal Palace West Wing
CH-3003 Bern, Switzerland
Tel.: +41 58 462 31 53
Fax: +41 58 464 90 47
E-mail: info@eda.admin.ch
---
Publisher:
Federal Department of Foreign Affairs
Federal Department of Home Affairs