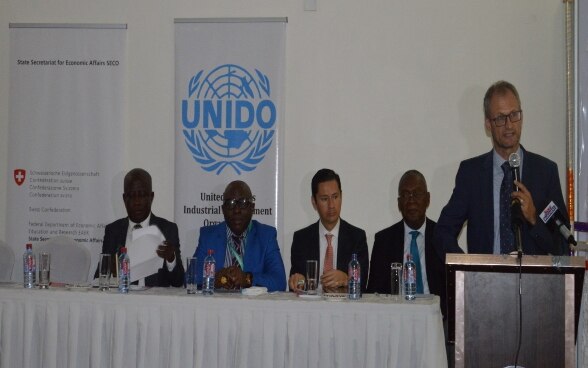 Together with the United Nations Industrial Development Organization (UNIDO) and the Ministry of Trade and Industry (MoTI), Switzerland formally launched the Global Quality Standards Program (GQSP) on 24th September, 2019. The new program is succeeding the second phase of the Trade Capacity Building (TCB II) project, which ended in 2018. GQSP seeks to further strengthen the quality and standards compliance capacity of national quality institutions and thus to strengthen market access for SMEs in the cashew, oil palm and cocoa value chains.
At the same time as the launch of the GQSP, two international accreditation certificates, which were awarded to the Quality Control Company (QCC) of COCOBOD were celebrated. The certificates are important outcomes from TCB II.
The event brought together stakeholders from the cocoa, oil palm and cashew sectors, the public, media and high level dignitaries including the Ambassador of Switzerland, H.E. Philipp Stalder, Acting Chief Director of MoTI, Mr. Patrick Nimo, and Dr. Ebenezer Owusu, Board Chair of QCC.
Ambassador Stalder congratulated QCC for the remarkable achievements of those accreditations and mentioned that they present an opportunity for COCOBOD to further strengthen Ghana's position as one of the world's leading cocoa producer. Making the link to Switzerland's flagship program, the Ghana Private Sector Competitiveness Program, the Ambassador indicated that the new quality project is a complimenting element to enhance the competitiveness of the cocoa, cashew and oil palm sectors.
The Acting Chief Director of MoTI acknowledged and commended Switzerland for its more than 10 years support in the area of quality infrastructure in Ghana. According to him, the continued engagement ensures that key institutions such as the Ghana Standards Authority and the Food and Drugs Authority are able to strengthen their capacities to provide services to SMEs that facilitate export to regional and international markets. 
Media coverage: