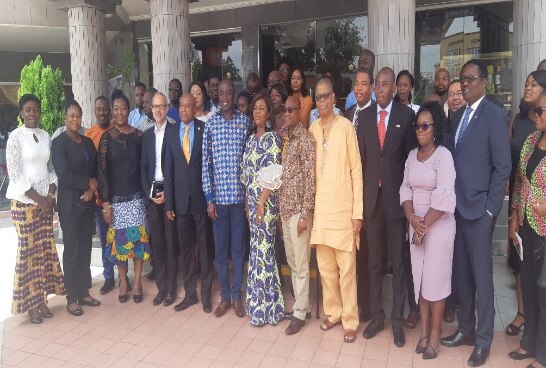 On July 22, 2019, Switzerland and the International Labour Organization (ILO) launched the hospitality coaching (HoCo) component of the SCORE program adapted to the hospitality and tourism industry. Stakeholders from the hospitality and tourism sector including hotel owners and operators, the industry association, SCORE training providers, the media and government officials were present to witness the launch.  HoCo was formally launched by the Deputy Ministers for Employment and Labour Relations and Tourism, Arts and Culture. 
SCORE is a program that assist governments, industry associations and trade unions to develop its export and domestic industrial sectors by providing practical training and onsite enterprise consulting that enhances productivity and working conditions of SMEs. With the launch, SCORE will expand its training and coaching modules tailored to small hotels and guesthouses to improve their business operations.
Hon. Bright Wereko-Brobbey, Deputy Minister for Employment and Labour Relations, lauded the ILO SCORE program for introducing the HoCo component given the tourism sector's contribution to the economy.
Hon. Dr. Ziblin Iddi Barri, Deputy Minister for Tourism, Arts and Culture, indicated his ministry's excitement about the inclusion of tourism and hospitality to the SCORE program. HoCo can contribute towards improving the industry standards and competitiveness of hotels in the industry. To demonstrate commitment and support to the HoCo program, he note that "the ministry would find space in the Ghana Tourism Fund to support SMEs participating in the HoCo program". 
With SCORE in its third phase due to end in 2021, sustainability has taken a center stage in the remaining period of implementation. Matthias Feldmann, the Chargé d'affaires a.i.of the Embassy of Switzerland called for the private sector and in particular SMEs along the tourism and hospitality value chain to take advantage of HoCo to improve upon their service provision and competitiveness. He also underscored the three key elements that would ensure the long term success of the program and these include "the demand and commitment of companies, the quality of training providers and the interest of the government"