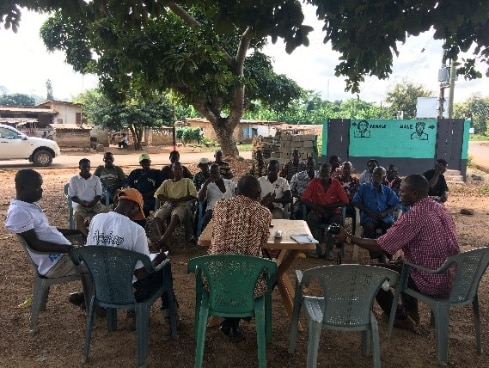 From June 10-14, Mr Georges Bauer, Project Coordinator at Swiss Federal Institute of Intellectual Property for the second phase of the Swiss-Ghana Intellectual Property Project (SGIP II) visited Ghana for a five-day monitoring mission. The objective of the monitoring mission was to assess the progress of implementation and plan the project's non-cost extension after 2019.
Mr Bauer and his local counterpart, Mr Samuel Anum interacted with the Chief Directors at the Ministry of Trade and Industry and the Ministry of Justice and Attorney General who are the key government partners to the project. Other notable meetings held to assess progress of the project included the new National Industrial Property Office, Copyright office of Ghana, the Custom Division of the Ghana Revenue Authority (GRA), the Criminal and Investigation Division (CID) of the Ghana Police Service and some selected Universities. 
The project coordinator engaged in a planning session with the pre-selected producer groups that will be registered as Ghana's first Geographical Indications (GI) products. The products to be registered include Bolga Hat and Baskets, Shea Butter for cosmetic use and Sugarloaf Pineapples. The team travelled to Ekumfi Abor in the Central Region of Ghana to meet with the Sugarloaf Pineapple producers group. The producers expressed their interest and indicated their preparedness for GI registration. Presently the GI Acts' regulations is in the Ghanaian Parliament waiting to be passed to enable the National IPO to implement. 
At the debriefing of the mission with the Embassy of Switzerland, Mr Bauer expressed his satisfaction with the progress of implementation. He looks forward to the next stages of the project and the continued close cooperation with both, the Ghanaian counterparts and the Embassy of Switzerland in Accra.