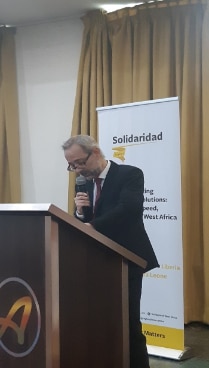 Under the theme of "Agriculture service provision: a critical driver for sector transformation" Solidaridad West Africa co-launched the second phases of the Sustainable West Africa Oil Palm Programme (SWAPP II) and Cocoa Rehabilitation and Intensification Programme (CORIP II) on March 29, 2019,. The event brought together stakeholders from the cocoa and oil palm sectors, public, media and high level dignitaries including the H.E. Ron Strikker, Ambassador of the Embassy of the Kingdom of the Netherlands, Matthias Feldmann, the Chargé d'affaires a.i. of the Embassy of Switzerland in Ghana, Togo and Benin, Hon. Kennedy Osei Nyarko, the Deputy Minister for Ministry of Food and Agriculture, Dr. Emmanuel Agyemang Dwomoh, the Deputy CEO of Ghana Cocoa Board and Isaac Gyamfi, the Regional Director of Solidaridad West Africa.
SWAPP II is co-financed by the Swiss State for Economic Affairs and the Embassy of the Kingdom of Netherland and focuses on bringing scale to the sustainable intensification of oil palm production and enhanced efficiency in oil palm processing in Ghana, Sierra Leone, Cote d'Ivoire, and Liberia.
Being earmarked for Ghana, SECO's co-financing proposes additional measures to the first phase such as skills development and sector-specific regulatory reforms to improve the competitiveness of the oil sector in Ghana. 
In his remarks, Mr, Matthias Feldmann, the Chargé d'affaires a.i.of the Embassy of Switzerland in Ghana, Togo and Benin, underscored the great potential of the oil palm sector for sustainable and inclusive growth. He stressed that "with the right approach, palm oil can become a catalyst for the transformation and modernization of Ghana's agriculture and that of the wider region". He called on governments, development partners and most importantly, the private sector to create more entrepreneurial opportunities for SMEs and crowd in private financing which are requisite to the competiveness and growth of oil palm sector.