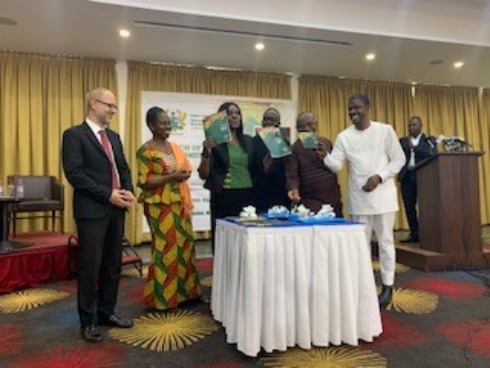 On August 9th 2019, the Government of Ghana launched the 2018 Public Expenditure and Financial Accountability (PEFA) Assessment Report. The PEFA report provides a snapshot of the strengths and weaknesses of Ghana's public financial management (PFM) system. Switzerland, together with the World Bank and the European Union, facilitated the assessment.
In his welcome remarks as the outgoing Co-Chair of the PFM Sector Working Group, Mr. Matthias Feldmann, Deputy Head of Mission and Head of Cooperation at the Embassy of Switzerland congratulated the Government of Ghana for successfully completing a fourth PEFA assessment. He assured the audience of Switzerland's commitment to continue supporting PFM reforms in Ghana especially when the government aspires to move Ghana beyond Aid.
The Chairperson of the Public Services Commission (PSC), Dr. Janet Ampadu Fofie, Director General of the National Development Planning Commission (NDPC), Dr. Grace Bediako, former PFM Advisor to the Minister of Finance and Acting Chief Director at the Ministry of Health, Nana Adjei Mensah, Coordinating Director at the Ministry of Finance (MoF), Mr. Michael Ayensu,  the Acting Controller and Accountant General (CAGD), Mr. Kwasi Kwaning Bosompem, and   Project Director of the PFMRP, Dr. Mohammed Sani Abdulai, launched the report on behalf of the Government of Ghana.