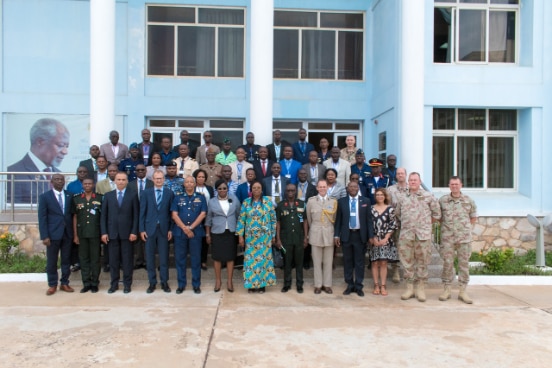 On August 13, 2019, the Ambassador of Switzerland, Philipp Stalder, opened the basic course on assistance and protection against chemical weapons for ECOWAS member states at the Kofi Annan International Peacekeeping Training Center (KAIPTC). The one-week training course was organized by experts from Switzerland's Federal Department of Defense, Civil Protection and Sports and the Swiss Army in partnership with the Organization for the Prohibition of Chemical Weapons (OPCW) and the UK. The course trained 40 professionals from the ECOWAS region in the fundamental aspects of chemical emergency preparedness and response. The course was the first of its kind to be delivered on this topic at the KAIPTC. More editions are planned in the coming years.
On August 19, 2019, the Chargé d'affaires a.i., Matthias Feldmann, opened the training course on intelligence support for peace operations. The course trained over 25 participants of the ECOWAS region in the application of information management skills and procedures to support decision making in peace operations. The two-week course is one of the three regular courses that Switzerland organizes on an annual basis together with the KAIPTC.
Switzerland has been working together with the KAIPTC for many years. Nowadays, three Swiss military officers and one police officer are permanently stationed at the Center. They are working together with the KAIPTC to build capacity, strengthen internal procedures and organize training courses. The KAIPTC is one of the few training centers for peacekeeping missions on the African continent. Switzerland's support to the KAIPTC is part of its global commitment to peace, security and development.