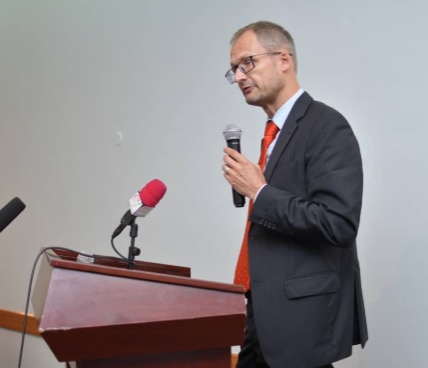 On September 12, the Council for Vocational Education and Training (COTVET) in collaboration with the International Labour Organisation (ILO) and with support from the Ghana Skills Development Initiative (GSDI III) inaugurated the sector skills bodies.

The sector skills bodies will cover the construction, agriculture, hospitality and tourism sectors. They have been established to advise and provide recommendations to curriculum development. Each sector skill body is made up of 19 members consisting of representatives from industry associations and the public sector, including key TVET institutions, the Ghana Employers Association and the Trade Union Congress of Ghana.

The launch event was attended by a number of dignitaries, including the Minister of Education Hon. Dr. Matthew Opoku Prempeh and the Ambassadors of Switzerland, Germany and Norway.

Hon. Dr. Matthew Opoku Prempeh, Minister of Education, emphasized the importance of TVET for the economic growth and development of Ghana. According to him, agriculture, construction, tourism and hospitality are critical sectors of the economy. Building the right skillsets is key to structurally transform them to towards greater local value addition.

Philipp Stalder, the Swiss Ambassador drew parallels to the Swiss economy by highlighting the contribution of TVET towards Switzerland's highly diversified economy. He expressed optimism that with inspiration from other well established TVET systems such as the Swiss dual system, Ghana could develop its own system that contributes to the economic transformation of the country and provides more job opportunities for young people. He welcomed the increased role of the private sector in the reformed Ghanaian TVET system and hoped that its involvement would ensure that the system is effectively addressing labor market demands.  

Switzerland supports the Ghana Skills Development Initiative (GSDI) as part of its broader flaghsip program, the Ghana Private Sector Competitiveness Program. GSDI is implemented by GIZ in cooperation with COTVET and other public and private stakeholders.