Ghanaian Minister for the Environment announces two key initiatives for sustainable use of natural resources
Local news, 05.03.2020
The sustainable use of natural resources will be at the heart of debates at the first World Resources Forum for Africa (WRF2020), which has today been officially announced by the Honourable Minister H.E. Kwabena Frimpong-Boateng at the Swiss Embassy in Accra. WRF2020 will be hosted by the Ministry for Environment, Science, Technology and Innovation (MESTI) on 23-25 June 2020 at the Accra international Conference Center, Ghana. In combination with the announcement of WRF2020, the second phase of the Sustainable Recycling Industries project has been launched, both initiatives being strongly supported by the Swiss Government.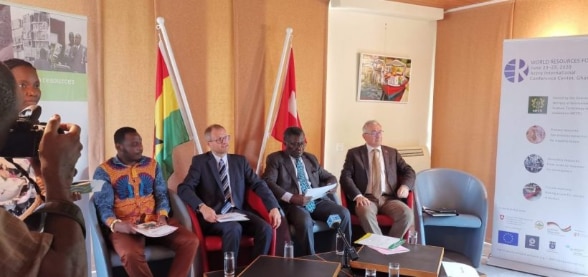 Ghanaian Minister for the Environment announces two key initiatives for sustainable use of natural resources (PDF, 3 Pages, 567.3 kB, English)
Further reportage of this event can be found on Graphic Online and World Resources Forum website.