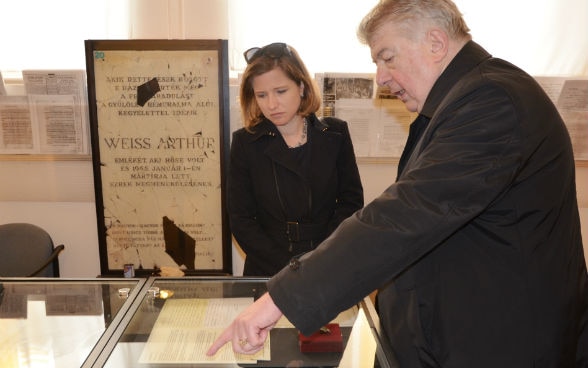 Az "Üvegház" egykoron üveggyári épület volt, amit a Weisz család építtetett az 1920-as évek elején. Carl Lutz itt nyitotta meg a Svájci Követség Kivándorlási Irodájának Külérdekek osztályát 1944. július 24-én és az épületet svájci diplomáciai védnökség alá helyezte.
A cionista szervezetek tagjai, akik már az 1930-as évek óta foglalkoztak zsidók Palesztinába való kitelepülési ügyeivel, az említett Üvegházban Carl Lutz helyettes konzullal együttműködve ezrek életét mentették meg számtalan menlevél kiállításával. 1944 októberében a nyilaskeresztesek erőszakkal átvették a hatalmat, a terror hónapjai alatt Lutz az Üvegházba menekült zsidók ezreinek nyújtott diplomáciai védelmet. A bennlevők már 1944 novemberében majd kinyomták az épület falait. A szovjet hadsereg 1945. január 18-án szabadította fel Budapestet, azon a napon mintegy 2000-2500 ember rejtőzködött az Üvegházban. 
A Carl Lutz Alapítvány 2005-ben emlékszobát rendezett be az Üvegházban. Itt mutatják be Carl Lutz mentőakcióit, a fiatal Magyar cionisták tevékenységét, valamint az Üvegházat, ahogyan 1944-ben kinézett. Szita Szabolcs professzor úr, a budapesti Holocaust Memorial Center igazgatója vezette körbe a delegációt, amelynek tagjai a dokumentumok, az eredeti fényképek és újságkivágások alapján képet alkothattak Carl Lutz helyettes konzul bátorságáról.