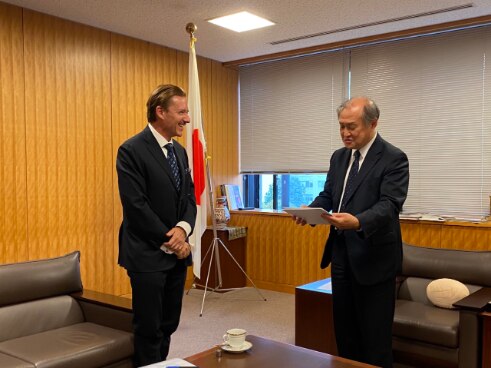 We are very pleased to announce that Dr. Andreas Baum, our new Ambassador, has arrived in Japan. On October 23, he was received by Mr. AKIBA Takeo, Vice-Minister for Foreign Affairs. Together, they highlighted the more than 150 year old friendship between the two countries and reaffirmed their commitment to develop the relationship further, even under the current pandemic circumstances.

Upon presentation of a copy of his letters of credentials, Dr. Baum can now officially act as Ambassador-Designate of Switzerland to Japan.

Prior to his arrival in Tokyo, Ambassador Baum served as Ambassador of Switzerland to India and Bhutan(2016-2020), Ambassador of Switzerland to Israel (2012-2016), Ambassador of Switzerland to Nigeria, Chad and Niger (2008-2012), and Minister and Deputy Permanent Representative at the Mission of Switzerland to the United Nations in New York (2004-2008). He holds a Doctorate in Medicine from the University of Lausanne and a Master of Arts in International Relations and International Economics from Johns Hopkins University.