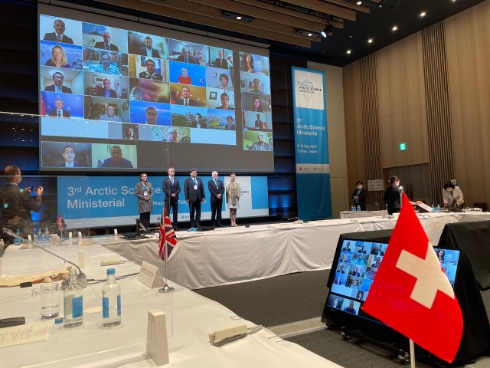 The Joint Statement signed by all Parties at ASM3 outlines cooperative actions to support science collaboration in the future such as the implementation of observing networks, data-sharing, enhancing understanding for Arctic environmental and social systems and preparing the next generation through capacity building.

In her statement, State Secretary Hirayama underlined the necessity to understand the vulnerable and complex Polar and Alpine regions in the urgent context of global warming. She also took the opportunity to commemorate Prof. Konrad Steffen, a Swiss pioneer and visionary on climate change and polar science, who died tragically in an accident while conducting fieldwork at the "Swiss Camp" research station on the Greenland Ice Sheet in August 2020.

The Arctic Science Ministerial strives to enable open and transparent discussions on the international level about the necessary measures for coordinated and inclusive Arctic observation and research. The main theme of the third edition, co-organized by Japan and Iceland, was "Knowledge for a Sustainable Arctic", which focused on the development of education and capacity building for future generations, with emphasis on both scientific and local knowledge in Arctic and non-Arctic countries.

Switzerland's major commitment to the Polar regions has its origins in the nature of the Swiss landscape, which - like the Polar regions - has been shaped by ice ages and consists of mountain ranges with receding glaciers. Swiss researchers have contributed significantly to the study and understanding of the Polar and Alpine regions over the past 100 years, focusing on both high-altitude and high-latitude ecosystems in order to measure the impact of human-induced environmental change. This engagement is part of Switzerland's ongoing efforts to advance scientific knowledge and limit the environmental and socio-economic impact of changes in the Arctic.