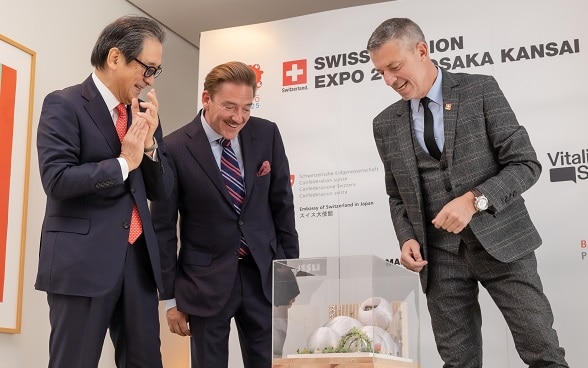 On February 1, 2023, the Embassy of Switzerland in Japan together with Presence Switzerland and the Consulate of Switzerland, Swissnex in Japan held two press conferences in Osaka and Tokyo followed by an evening reception at the Swiss residence to unveil the Swiss Pavilion design and model in front of media, sponsors and partners. During the Tokyo press conference, Secretary General of Expo 2025, Mr. Hiroyuki Ishige, and Commissioner General of the Swiss Pavilion Mr. Manuel Salchli inaugurated the event by signing the contract confirming Switzerland's official participation to Expo 2025 Osaka. Together with Ambassador Andreas Baum in Tokyo and in presence of Dr. Felix Moesner in Osaka, they revealed the model of the Swiss Pavilion to the delight of the audience. Through 3 core themes, Life, Planet and Augmented Human, the pavilion will showcase Switzerland's edge in life sciences, health, sustainability, AI and robotics.
The two press conferences were followed by an evening reception with over 70 guests from #Swiss companies. The opening remarks were given by Ambassador Baum and Ambassador Haneda, Commissioner General of the 2025 World Exposition in Japan highlighting the ties between Switzerland and Japan. Manuel Salchli then presented the concept of the Swiss Pavilion with inputs for the design and production team, represented by Manuel Herz from Manuel Herz Architekten, Mark Breitenmoser from NUSSLI Group and Iwan Funk from Bellprat Partner. EXPO Co-creation Program Director for Expo 2025 and Vitality.Swiss Ambassador Seiichi Saito concluded the presentation by giving his views on this innovative project which offers a radical vision in terms of weight, recyclability and reusability.
The road to the Expo 2025 is only beginning and Team Switzerland will continue to explore the core themes of our pavilion through Vitality.Swiss, a communication program on the road to Expo 2025 Osaka.
More information: Swiss pavilion at Expo 2025 in Osaka