Embassy of Switzerland in Kenya
COVID-19
* Kindly note that the Embassy of Switzerland in Nairobi will be closed for one day, on Friday 10th December 2021, for an internal event*
Travelers arriving from Switzerland entering Kenya by air:

Please see the relevant web page of the KCAA "Kenya Civil Aviation Authority".
Covid-19: Regulations for air travelers entering Switzerland as of 26 June 2021:
On June 23, 2021, the Federal Council decided to lift the entry restrictions for persons from third countries who are fully vaccinated.
For vaccinated third-country nationals, the regular entry requirements will apply again from June 26, 2021. Children under 18 years of age who cannot be vaccinated due to their age may enter with their vaccinated companions (parents, siblings, grandparents or other caregivers).
Entry restrictions continue to apply to foreign nationals who are not vaccinated and are without rights of free movement, entering from risk countries or regions and who do not belong to any of the exceptional categories of the Covid-19 Regulation 3.
Entry rules change very frequently due to the ongoing Covid-19 pandemic. It is advised that when travelling, to check the newest "sanitary rules" by using the Travelcheck to check whether and under what conditions you are allowed to enter Switzerland.
For additional information, please consult the webpage of the State Secretariat for Migration (SEM) and of the Federal Office for Public Health (FOPH).
Everyone entering Switzerland must present a completed entry form (rare exceptions may apply, please refer to art. 3 of the COVID-19 Ordinance on International Passenger Transport). It is important to fill out the electronic entry form on a computer or smartphone at the earliest, 48 hours before the travel, in order to receive a QR code by email. This code needs to be kept at hand for inspection upon arrival in Switzerland. The controlling authority can impose a fine if the entry form is not completed or if the information provided is false.
Information regarding Covid-19 vaccinations for Swiss citizen living abroad:
Swiss Covid certificate for persons vaccinated abroad:
Holders of an "EU Digital COVID Certificate" or a certificate compatible with the "EU Digital COVID Certificate" do not need to apply for a Swiss Covid certificate. These certificates are recognized in Switzerland. Anyone who does not have a corresponding certificate can apply for a Swiss Covid certificate if he/she was vaccinated abroad with a vaccine that is approved by the European Medicines Agency (EMA). These are the following vaccines:
Comirnaty® / BNT162b2 / Tozinameran (Pfizer/BioNTech).
Spikevax® / mRNA-1273 / COVID-19 vaccine (Moderna)
Vaxzevria® / AZD1222 / Covishield™ (AstraZeneca)
COVID-19 Vaccine Janssen (Johnson & Johnson).
The prerequisite for this is that the person lives in Switzerland, is staying in Switzerland or intends to enter Switzerland. The vaccination carried out abroad and the stay in Switzerland must be sufficiently documented and the person must be able to identify him/herself. Detailed information can be found on the website of the Federal Office of Public Health (FOPH).
For vaccines on the "WHO Emergency Use List", a Swiss Covid certificate may be issued. Detailed information can be found on the website mentioned above.
Vaccination for the Swiss Community Abroad
Swiss citizens abroad - with and without compulsory health insurance (basic insurance) in Switzerland - and their close family members living in the same household without Swiss citizenship (life partners, children, parents, parents-in-law) can be vaccinated in accordance with vaccination recommendations when staying in Switzerland. The implementation of the vaccination is regulated by the cantons. Information on whether and how interested persons can register for vaccination can be obtained from the cantonal offices.
There are no plans to supply the Swiss abroad with vaccines from Switzerland.
For additional information see also the web page of the Federal Office for Public Health (FOPH)
and/or:
Infoline Coronavirus:

+41 58 463 00 00

(daily 6 am to 11 pm Swiss time).
Infoline for persons entering Switzerland:

+41 58 464 44 88

(daily 6 am to 11 pm Swiss time)
Infoline Covid-19 vaccination:

+41 800 88 66 44

(daily 6 am to 11 pm Swiss time)
Please consult the information on the web page of the Organization of the Swiss Abroad for further reference.
Information on Swiss COVID-Certificate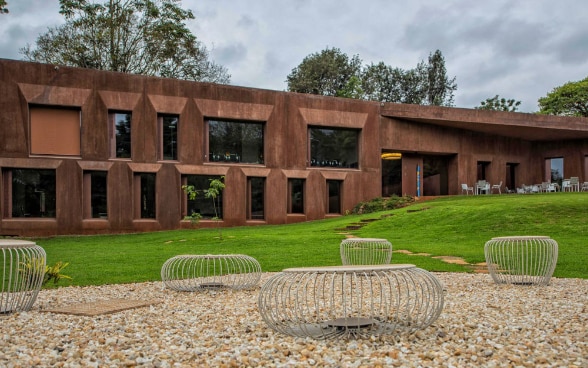 As the official representation of Switzerland, the Embassy covers all matters concerning diplomatic relations between Switzerland and Kenya, as well as Switzerland and Burundi, Rwanda, Somalia and Uganda. It represents Swiss interests in the areas of political, economic and financial affairs, science, education and culture. It delivers consular services to citizens of Switzerland and other countries. It implements the cooperation strategy for the Horn of Africa. 
In order to fulfill these tasks, the Embassy operates in four Divisions. Find out more about the work of each one of them.