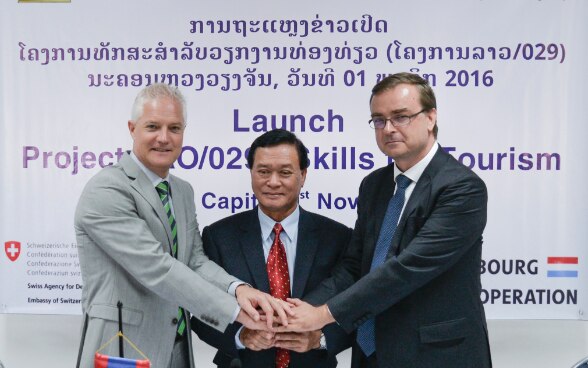 The objective of this five-year project is the promotion of sustainable and inclusive growth of the Lao PDR tourism and hospitality sector thereby contributing to poverty reduction.  Through the implementation of a range of initiatives, it is expected that graduates of improved and expanded tourism and hospitality skills development, particularly disadvantaged people, will find gainful employment in the tourism and hospitality sector.
"The Skills for Tourism project aligns very well with the 8th National Socio-Economic Development Plan and the Ministry of Education and Sport's Technical and Vocational Education and Training (TVET) Development Plan 2016 – 2020.  The vision for TVET in Lao PDR is labour force development linked to national and provincial socio-economic development in key sectors including tourism, as well as ASEAN and international integration", said Dr Kongsy Sengmany.  
The Luxembourg and Swiss governments have granted 15 million EUR to the government of Lao PDR to enhance skills development in the tourism and hospitality sector.  The project – which is being implemented by the Luxembourg Development Cooperation Agency (LuxDev) – builds on a previous successful Luxembourg Development Cooperation-funded project (Project LAO/020 – Strengthening of Human Resources in the Hospitality and Tourism Industry in Lao PDR) implemented over the past seven years.  That project led to the creation and operationalisation of the Lao National Institute of Tourism and Hospitality (LANITH).
The Skills for Tourism project will provide ongoing support for vocational education and skills development for the tourism sector.  When fully operational, it will allow for as many as 1,000 to 2,000 beneficiaries per year to be trained and find employment in tourism and hospitality. The inception phase of the project began in September 2016.  It is focused on achieving a number of key outcomes related to improving the quality, as well as expanding the scale and variety of good quality skills development programmes in tourism and hospitality; including disadvantaged groups in training programmes through transparent and effective support measures; and supporting an enabling governance, institutional and regulatory framework.
"The government of Luxembourg is delighted to continue its support for tourism and hospitality skills development in Lao PDR.  This project is further helping to bridge the gap between the large number of job-seekers in Lao PDR, particularly those from disadvantaged backgrounds, and the enormous employment potential of the tourism and hospitality sector", said Mr Claude Jentgen.  He emphasised that the project will also provide additional support for LANITH.
Vocational education and skills development makes an important contribution towards reducing poverty.  It encompasses all organized learning processes for the development of technical, social and personal skills and qualifications that contribute to long-term integration of trained people in decent working conditions into the formal or informal economy, either on an employed or self-employed basis.  Employment and vocational education is a core element and is, in fact, a hallmark of SDC's efforts for over 60 years.
"With the Skills for Tourism project, SDC aims to ensure that tourism and hospitality skills development and employment opportunities are available to all sections of society in Lao PDR, in particular the poor and vulnerable, such as young people, women and the rural population", said Mr Tim Enderlin.
The tourism sector in Lao PDR has expanded rapidly, with international arrivals increasing from 14,400 in 1990 to over 4.6 million in 2015.  Direct employment in tourism is substantial, with participation in the tourism labour force seen as having significant potential to increase poor peoples' share of tourism-related income.