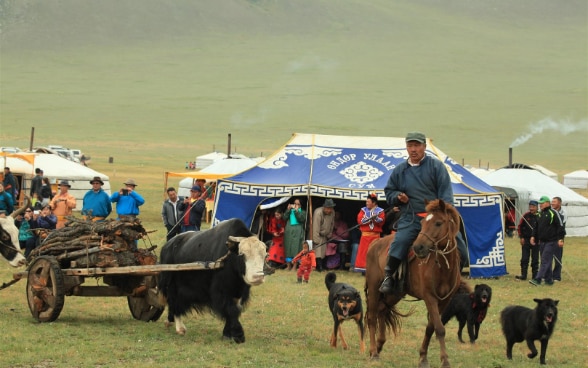 The yak festival will be organized at the beautiful Taikhar Steppe in Erdenetolgoi bag of Ikhtamir soum in Arkhangai aimag on 11 August 2017 within the goal of improving the quality of Mongolain yak breed, increasing and fully utilizing the benefits from yaks, and increasing the income of herders by supporting value added production.
The Mongolian Yak Festival has become an annual event that attracts many international and domestic tourists.
Highlights will be:
A display of Mongolian national games, costume and nomadic lifestyle, yak milk dairy making, yak racing, folk art concert and yak wool fashion show and many more...
Main organisers:
Arkhangai aimag federation of pasture-user groups
"One Arkhangai – New development aspiration" NGO
Co-organisers:
Arkhangai aimag governor's office
Ikhtamir soum governor's office
National federation of pasture-user groups
Mongolian wool and cashmere association
"Green gold – Animal health" project of the Swiss Agency for Development and Cooperation
"Mongolian yak" society