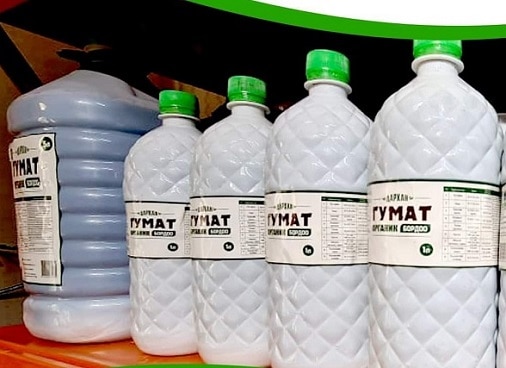 Darkhan Gumat fertilizer is an import substitute based on the research of Mongolian scientists and experts who conducted vigorous field and laboratory tests at IPAS. The company's production line was established with 41,000 CHF from SDC under the Small Action Call for Clean-tech Start-up Projects.  
Darkhan Gumat fertilizer is an ecologically clean product that is safe for humans and the environment and provides plants with a natural balance of minerals. It can be used for all types of crops, as well as in pastures, forests, and mining site rehabilitation. It provides fertilization from organic minerals that intensify solubility and soil quality, improves plant and soil regeneration, increases soil fertility, and prevents desertification.
Darkhan Gumat contains biologically active substances such as nitrogen, potassium, magnesium, carbon, copper, iron, and insoluble elements that improve plant growth and kill plant-eating insects. The fertilizer comes in a liquid form and contains about 50 decomposing strains derived from Mongolian soil and eight types of bacteria that make an acid that supports and strengthens vegetation. The product reinforces growth and immunity, absorbing nitrogen into the soil, and is rich in phosphorus and potassium. Trials have confirmed that Darkhan Gumat can increase crop yield by 65.8-95 percent.
The new production line can produce 1,760 tons of organic fertilizer a year, providing Mongolian farmers and vegetable growers with a domestic organic fertilizer at a cost three times lower than similar imported fertilizer. Local demand for the fertilizer is huge, but the company's current delivery capacity can only reach 20-40 percent of Mongolian farmland. The company is optimistic about expanding its operations, creating more than 15 permanent jobs, building warehouses, introducing more innovative agriculture products, and making sufficient profit for further expansion. Farmers from SDC's VEGI project signed a memorandum of understanding with Bio Undarga at the product launch ceremony to purchase Darkhan Gumat at a discounted price. We are proud to say that with modest financial support from the Swiss Agency for Development Cooperation, Darkhan Gumat can have a real impact on Mongolia's farmers, providing an affordable organic fertilizer and lessening the agriculture industry's dependence on imports. It's an all-around great result!