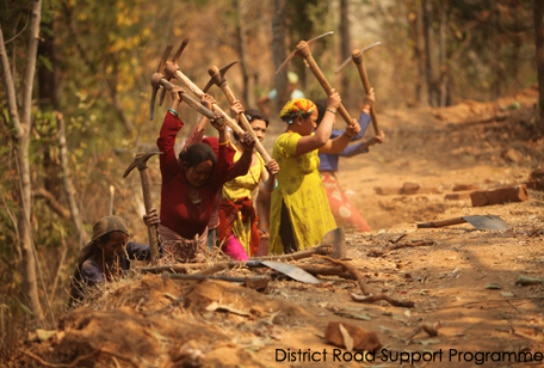 The origin of the Swiss assistance in Nepal dates back 60 years to when Switzerland implemented its first project and pioneered many approaches. Swiss assistance has concentrated on the hill regions and emphasized on rural development with projects and programmes in rural infrastructure, agriculture, forestry, skills development and social services. A strong commitment and tangible results have led to a broadly accepted, positive reputation and branding of Swiss Cooperation in Nepal.
To ensure a strong field presence, the Swiss Association for Technical Assistance (SATA) opened its first office in the '50s, which then formally became an SDC Cooperation Office in the '80s. On the occasion of 50 years of development cooperation between the Governments of Nepal and Switzerland in 2009, Switzerland opened an Embassy in Nepal, in which the SDC's Cooperation Office was integrated together with a section on peacebuilding support and a consular section.
Since its beginning, Switzerland has contributed to the formulation of Nepal's key development policies and has fostered decentralization at district and local level, focusing on democratic development and participation. The SDC and its partners have strong technical, institutional and social competencies in areas that are key to poverty reduction including rural infrastructure, forest and soil fertility management as well as occupational skills / vocational training.
The SDC's programme in Nepal, and particularly transport infrastructure (roads, trail bridges) and management of natural resources (forestry, agriculture), have over the years established a strong foundation in the country that is directed to capacity development and policy improvement. The SDC Nepal is one of the few agencies that has supported technical and vocational training and education as a corner stone of human development continuously over half a century. Governance issues such as decentralization, human rights and anti-corruption, especially at the local level as well as promotion of equity and social inclusion are integral part of the programme implementation.
Over the last two decades, the SDC in Nepal has adopted a comprehensive Conflict Sensitive Programme Management (CSPM) approach consisting of four complementary sets of instruments, namely Security management, Coordination with other donor agencies, Awareness building and support at operational level, and close monitoring of the political and human rights situation. This approach has proven to be effective during the period of increased tension, repression and open conflict at operational level also in coordinating political responses.
Strong linkages with groups of citizens, users committees and local NGOs and networking with the allied community-based organizations had given Switzerland the opportunity to act in and on the armed conflict (1996-2006) at the local level, easing tensions and preparing the way for dialogue and reconciliation. This presence in the field allowed to address difficult issues linked to the effect of violence and fear on the civilian population, especially on women.
In 2015, Nepal adopted a new federal constitution, creating 753 local governments and seven provinces. Elections at the three tiers of government in 2017 led to the appointment of thousands of newly elected officials from a range of social and economic backgrounds. However, forging a political culture that addresses the needs of the population remains a challenge, as does the functioning of the new federal system.
Switzerland is supporting the democratic development of the new federal state in Nepal. Through the SDC, it is working to promote equitable socio-economic development and to enable men and women to exercise their rights and responsibilities within the new federal structures.