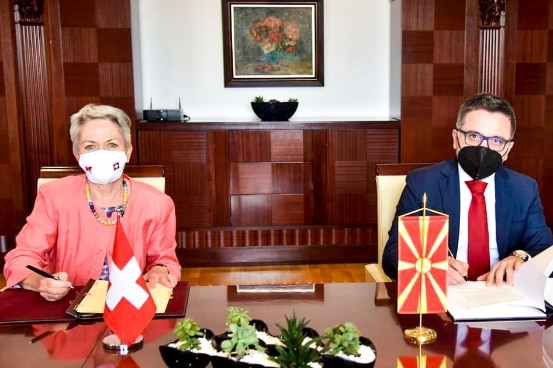 May 19th 2021 Skopje - Ambassador Sybille Suter Tejada on behalf of the Swiss federal Council and Finance Minister Fatmir Besimi on behalf of the Government of the Republic of  North Macedonia signed the Protocol to harmonise the Agreement between Switzerland and North Macedonia to avoid double taxation.
The double taxation agreement (DTA) was first signed between the Switzerland and North Macedonia in December 2000 with the purpose of avoiding income and assets being taxed in both countries at the same time.
Now, 20 years later, the DTA must be adapted to new standards. Among the most important amendments are a new clause to prevent abuse and further regulations about future exchange of information between the two countries.
The new protocol will strengthen the existing provisions to avoid double income tax and capital tax between the two countries, which will achieve increased tax transparency and fair tax treatment.
Additionally, these new provisions to avoid double taxation will enable tax base monitoring and fair distribution of profits between the two countries.
Switzerland is committed to implementing the latest international standards in its double tax treaty network, and this protocol with further strengthen the economic relations among Switzerland and North Macedonia.