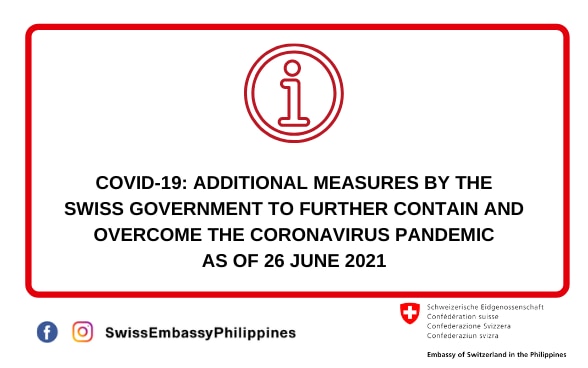 See media release here.
For detailed information on Switzerland's health-related measures at the border, please refer to the following leaflet (PDF, 6 Pages, 189.4 kB).
The Travelcheck allows you to check whether and under what conditions you can enter Switzerland.
The website of the Federal Office of Public Health (FOPH) contains many other details that will certainly be helpful to you, especially the list of risk countries and areas.
The Embassy of Switzerland in the Philippines assumes no liability for the accuracy and completeness of the information.
*****
Coronavirus: Bundesrat beschliesst weiteren, grossen Öffnungsschritt und erleichtert die Einreise in die Schweiz
Siehe Medienmitteilung.
Ausführliche Informationen in Bezug auf die grenzsanitarischen Einreisebedingungen in die Schweiz entnehmen Sie bitte dem folgenden Merkblatt (PDF, 6 Pages, 189.4 kB).
Mit dem Travelcheck können Sie prüfen, ob und unter welchen Voraussetzungen Sie in die Schweiz einreisen dürfen.
Die Webseite des Bundesamtes für Gesundheit (BAG) enthält viele weitere Details, die Ihnen gewiss hilfreich sind, insbesondere die Liste der Risikoländer und –gebiete.
Die Schweizerische Botschaft in den Philippinen übernimmt keine Haftung für Richtigkeit und Vollständigkeit der Informationen.
******
Coronavirus: le Conseil fédéral décide d'un nouvel assouplissement d'envergure et facilite l'entrée en Suisse :
Voir communiqué de presse.
Les informations détaillées concernant les conditions d'entrée sanitaires en Suisse se trouvent dans la feuille informative (PDF, 6 Pages, 189.4 kB) ci-dessous.
Le Travelcheck vous permet de savoir si vous avez le droit d'entrer en Suisse, et le cas échéant à quelles conditions.
Le site web de l'Office fédéral de la santé publique vous informe de manière plus détaillée sur les mesures sanitaires et l'entrée en Suisse, et publie la liste des pays et régions à risque continuellement mise à jour.
L'ambassade suisse aux Philippines décline toute responsabilité quant à l'exactitude et à l'exhaustivité des informations.