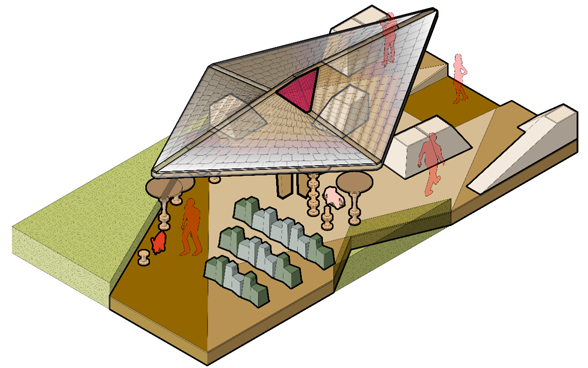 As cities continue to emerge and expand, the world is at a tipping point. The current ways of production and consumption are putting an unsustainable strain on the natural resources, temperature and biodiversity of our planet. In construction, buildings account for nearly 40% of all energy-related CO2 emissions. How we construct our buildings, what we build them with, and how we operate them must all be reassessed, if were to lower their impact on their environment. 
To raise awareness of sustainability in design and construction, the Swiss Embassy in Singapore has teamed up with partners from different industries, all united in their belief in a more sustainable world.
Together with Swiss and local partners Affordable Abodes, Deloitte Singapore, EHL Campus (Singapore), Häring Timbre Technology, Hilti, Nespresso, Studio Sklim, UBS, and Vitra, we are proud to present +Pavilion; a pop-up installation presenting innovative design, building materials and solution and education on circular-economy and sustainability. The exhibition illustrates how thoughtful design can ensure that buildings serve its community's needs in an enduring fashion.

+Pavilion offers information on the topic of sustainability and playful elements for the whole family! Little ones can play with elephant swing furniture made of recycled plastic and rattan and explore the enchanted forest made of cork, while adult visitors can expect an experiential walk-through on their tour of the +Pavilion. They will see, and even touch, the earth-friendly and sustainable materials such as glue-laminated timber, biocomposite made from the Kenaf plant and boards made of recycled coffee used to construct the +Pavilion.

Learn more about how building design, construction and operations can "build differently"!
Dates: May 27 – July 21, free admission