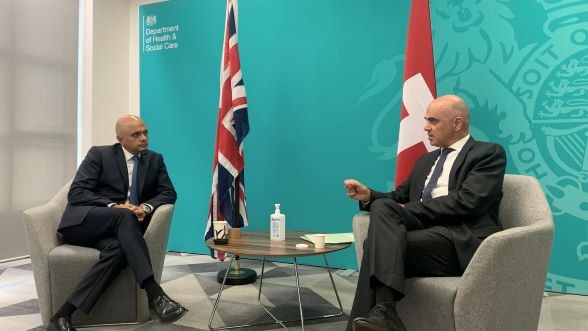 Federal Councillor Alain Berset, Head of the Federal Department of Home Affairs, visited London in September for talks with UK Health Secretary Sajid Javid and to sign a new social security co-ordination agreement between the UK and Switzerland.
In the bilateral meeting with the Health Secretary, the two ministers exchanged views on the COVID-19 epidemiological situation and the progress of the vaccination drives in both countries. The talks also covered how to strengthen the World Health Organisation and ensure fair global vaccine distribution via COVAX.

Federal Councillor Berset also used the occasion of his visit to sign the new social security co-ordination agreement between Switzerland and the United Kingdom. The new agreement ensures that British and Swiss citizens will be able to access healthcare when living in or visiting each other's countries.
The agreement is not in force yet. People who have settled or pre-settled status have their rights already covered under the Citizens' rights agreement.