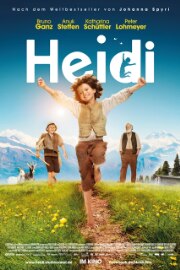 The Embassy of Switzerland in Armenia, within the framework of the German language days in Armenia, is proud to present the prize winning film "Heidi" (2015) by Swiss film director Alain Gsponer. The film will be shown in the original Swiss German version, with Armenian subtitles.
The film is based on the novel of the same name by Johanna Spyri (1827 - 1901). This best-selling Swiss author of children's novels is best known for her book Heidi.
This is a story of a little orphan girl, Heidi, whose childhood's happy moments bring together the little girl and her grandfather, Almöhi, isolated in his humble shelter in the Swiss mountains. Together with her friend, the shepherd Peter, she looks after the goats and enjoys freedom in the mountains.
Nevertheless, those innocent times come to an end when Heidi is taken away to Frankfurt by her aunt Dete. She will become the playmate of the wealthy family Sesemann's daughter, who is in a wheelchair. Heidi will also learn to read and to write under the supervision of the very strict nursemaid Miss Rottenmeier. Even though the two little girls will get along very well and Klara's grandmother will awaken Heidi's passion for books, her nostalgia for her beloved mountains and her grandfather Almöhi will grow stronger every day.
This is the latest film adaptation of probably the biggest Swiss bestseller of all times, with some 50 million copies in print, that has conquered Europe and was adapted innumerable times in Comics, Films and Musicals. 
Official teaser of Heidi: youtube.com
First screening:
Date: 26.09.2016
Time: 19:30
Place: Embassy of Germany in Yerevan, at 29 Charentsi street, Yerevan, Armenia.
Second screening:
Date: 02.10.2016
Time: 10:00-18:00
Place: Language Learning Center, at 8 Paronyan street, Yerevan, Armenia.
Please find the full program of the German Language Days in Armenia here:
German Language Days in Armenia full program (PDF, Number of pages 2, 754.2 kB)