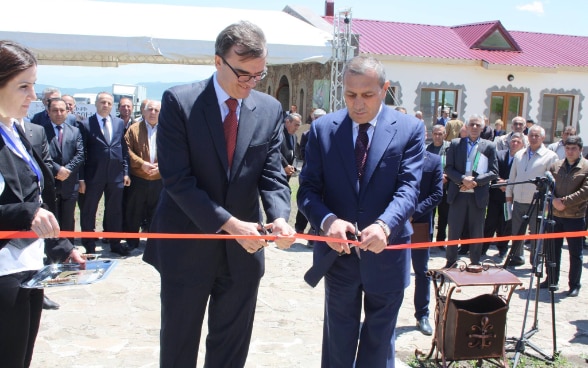 The construction of the cattle market was funded by the Swiss Agency for Cooperation and Cooperation (SDC) within the framework of "Livestock Development in the South of Armenia" project and implemented by "Strategic Development Agency" NGO. The project aims at fostering cattle breeding in southern provinces of Armenia.
Cattle market in Goris consists of 3 buildings that include all necessary infrastructure: apart from the marketplace itself, there is a veterinary pharmacy, agro-trade point, and food court.
Ambassador Lukas Gasser delivered a welcome speech, congratulating all the guests on successful fulfillment of the project: "Syunik and Switzerland quite resemble by their nature; my homeland, however, has always benefited from its geographical position, whereas Syunik due to multiple historical turns always had to struggle for prosperity. Today I am glad to see this cattle market ready to be used in contribute to the population wellbeing. The SDC will invest 10 mln Swiss francs in agriculture in Armenia during 6 years (2014-2020)". He added that besides the agricultural projects the SDC is involved in humanitarian programs concerning disaster risk reduction and also mentioned Social Housing programme for disadvantaged families that SDC had funded earlier in Syunik.
First Deputy Minister of Territorial Administration and Emergency Situations Vache Terteryan highlighted the importance of the support provided by the SDC on behalf of the Swiss government. The governor of Syunik province Surik Khachatryan also expressed his gratitude to all involved and contributing partners and described the cooperation between SDC and local administration as strong friendship, which will hopefully elaborate new fruitful projects.
The showroom on the territory of the cattle market is equipped with samples of various agricultural goods that will help the farmers get to know to new techniques and innovations in the area and improve their experience. Also, they can order any of presented goods and equipment.
Vayots Dsor and Syunik marzes occupying strategic and geographic-political important position amongst the regions of the republic, at the same time remain disadvantaged due to their remoteness from the capital and markets. Meantime, more than 80% of local population is engaged in agriculture, with the main focus on animal husbandry.
Taking into consideration the abovementioned the SDC initiated the "Livestock Development in the South of Armenia" project in September 2014 with the aim to increase economic opportunities and incomes of male and female farmers involved in animal husbandry.
This 6-year project covers 100 communities with over 60,000 population or 14,000 households. It will develop a scheme for creating a transparent and sustainable meat and dairy market and respective infrastructure, for example veterinary, artificial insemination services, etc. The project will last till August 2020 with a total budget of 10 mln Swiss francs (approximately 11 mln USD).