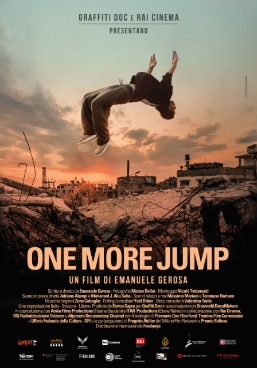 The 7th edition of the Budapest International Documentary Festival runs 1 to 10 March 2021, screening 30 documentaries in competition. The event will be held online, because Hungarian film theatres are closed.
BIDF will show the most recent (finished in 2019 or 2020) documentaries. After the premiere screenings the films will be available in Hungary on the festival's home page until 10 March. The prizes will be awarded by a jury composed of 25 international and national experts.

You can also watch two Swiss cooproductions online:
 
Jehad and Abdallah are two Palestinian athletes, brought up together in the Gaza Strip. In 2005 they founded the Gaza Parkour Team in order to offer the younger generations an alternative to the war. After managing to escape, today Abdallah lives in an abandoned house in Italy but he can hardly manage to get by. Jehad is still trapped in the Strip, he takes care of his sick parents and leads the Team by himself. They haven't spoken to each other for years: Jehad has never forgiven Abdallah for leaving him behind. As a desperate attempt to achieve his dream, Abdallah decides to take part in an international parkour competition. Jehad realizes he won't be able to have any future in the Strip, he decides to apply for a Visa and try to change his destiny. Their friendship has been torn apart by their choices, yet their destinies are mirroring one into the other. Now more than ever, they need to find out if there is a way that can lead to freedom someone who, like them, was born in prison.


The Wall of Shadows 

"When a Sherpa family is asked by a group of westerners to lead a trek up the never-conquered east wall of the imposing Kumbhakarna Mountain in Nepal, they're confronted with a dilemma. Not only is the summit reputed to be more challenging than Mount Everest, but according to the local Kirant religion, it's a sacred mountain that is not supposed to be ascended. While the father would like to earn the money necessary for his son's education, the mother, a fierce woman who supports her boy's dream of becoming a doctor, is adamant that they shouldn't hike God's body. Director Eliza Kubarska follows the expedition after the family agrees to guide the three foreigners, negotiating as best they can the pressure to finish the climb, the dangerous conditions and their own religious beliefs. Herself an experienced alpinist, Kubarska captures breathtaking images of the majestic landscape, honouring the spiritual dimension of the environment.

Please find more information about the festival here.