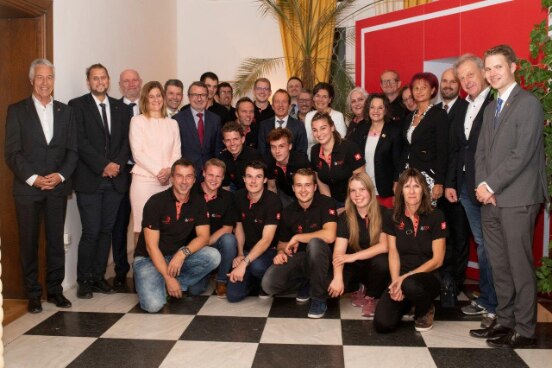 In order to wish them good success for the EuroSkills 2018 competition in Budapest, Ambassador Mr. Burkhard invited the Swiss delegates to his residence.
As the reception provided at the same time a good opportunity to foster the bilateral exchange of both countries, also representatives of both Hungarian vocational training institutions and Swiss-Hungarian business were present.
In his address, the Ambassador stressed the importance of a well-functioning vocational training system and pointed out that a competition not only provides a chance to compete, but also to learn from each other.
Ms. Gáborné Pölöskei, Deputy State Secretary responsible for Vocational Education in the Ministry for Innovation and Technology, wished a lot of success to all the participants and encouraged them to come back to Budapest as tourists even beyond their participation at EuroSkills.
Ms. Christine Davatz-Höchner, head of the SwissSkills delegation, expressed her gratitude to the Ambassador and presented him with a commemorative photograph signed by all the participants.