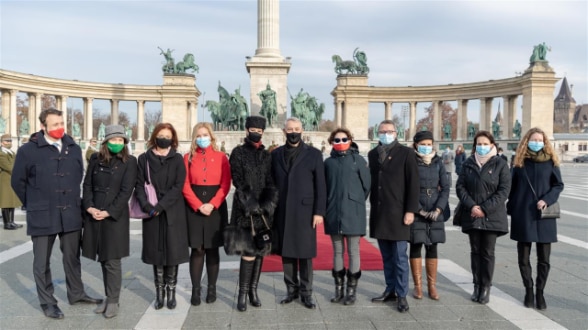 On December 2, 2020, Ambassador Paroz presented his letter of credence to the Hungarian President János Áder during a ceremony held at the Sándor Palace. The ceremony marked the formal beginning of Ambassador Paroz's mission as Ambassador Extraordinary and Plenipotentiary of Switzerland to Hungary.

In the course of the event, the Ambassador and the President had a short conversation during which they exchanged about the good Swiss-Hungarian relations and the impacts of the Covid-19 pandemic. Ambassador Paroz highlighted the longstanding friendship between the two countries and his aim to continue strengthening the good relationship.

A delegation consisting of Dr. Yulia Gusynina Paroz, the Ambassador's wife, Istvan Kocsis, the Deputy Head of Mission, and his wife Guadalupe Albert, Zsuzsanna Tormássy, the Head of Administration, Melanie Kiss, the Deputy Head of Administration, Dóra Hambuch, the Cultural Officer, Laura Rácz, the Press and Law Officer, Robert Kattein, the Economic Officer, Erika Pósza, the accountant and Sarah Werren, the academic intern, attended the wreath-laying ceremony at the Heroes' Square.