Embassy of Switzerland in Kyrgyzstan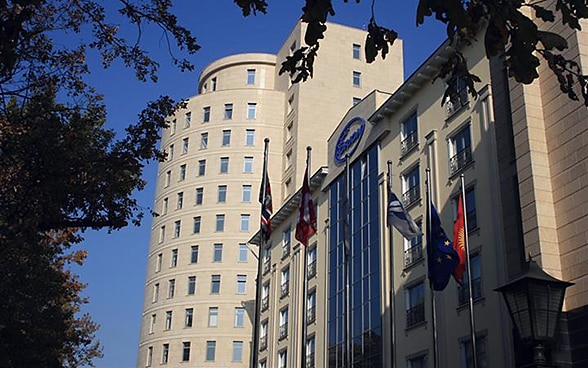 The Swiss Embassy in the Kyrgyz Republic represents the Swiss Government and covers all matters concerning diplomatic relations between the two countries and supervises Swiss projects implemented in Kyrgyzstan funded by two Swiss Federal Agencies – the Swiss Agency for Development and Cooperation (SDC) and the State Secretariat for Economic Affairs (SECO).
Switzerland supports Kyrgyzstan in its economic, social and political transitions. The objective of its Cooperation Programme is to promote peace and social cohesion as well as responsive and inclusive institutions and a sustainable development to improve the well-being of the population.
President of the Swiss Confederation Simonetta Sommaruga: National Day 2020 greetings for the Swiss abroad
© UVEK / swissinfo.ch
COVID-19 - Information on the situation
The Swiss Federal Council called on Swiss travelers (tourists and business travelers) to return home Press release.
Travel Admin App
If you are traveling in the region as a tourist or for business purposes please register on the Swiss Travel Admin App in order to be able to locate you in case of necessity. Make also sure to delete your registration once returned to Switzerland.
Situation in the country
The situation of emergency in Kyrgyzstan decided on May 10th 2020 because of the COVID-19 outbreak is still enforced in the cities of Bishkek, Osh, Jalal-Abad, Nookat, Kara-Suu districts of Osh region, Suzak district of Jalal-Abad region, Naryn, At-Bashi district of Naryn region. Nevertheless several measures to progressively reopen activities were decided and road blocks removed. The entrance in the country for foreigners is still not permitted and the borders, land and airport are closed.
Mandatory quarantine for persons arriving in Switzerland
The Swiss Government has decided to update the list of countries and areas with a high risk of infection on July 23rd 2020. According to this list people arriving from Kyrgyzstan will also have to undergo a 10 days mandatory quarantine upon arrival in Switzerland. For details please follow this link.

Consular services
The consular services are presently operating in a reduced scale. If you need to come at the Embassy because of an emergency, please call or write us an e-mail to bishkek@eda.admin.ch.
Information on flights
The Turkish Embassy in Bishkek announced potential charter flights to Istanbul from Bishkek on July 8th, 15th, 22nd and 29th. As the necessary Kyrgyz government approval is still pending this information is subjected to change. If you are interested in these flights, please directly approach the Turkish Airlines town office (130 Bokonbayev Street, Tel. +996/312 979 598, e-mail: info-kg@thy.com). Inquiries on prices, luggage allowance, health & safety precautions and other requirements, including exchange with previously purchased tickets, are to be obtained directly with Turkish Airlines town office.

Flydubai is offering flights out of Bishkek to Dubai and onwards to many European destinations on July 10th, July 17th, July 24th and July 31st 2020. For further details and booking procedures please verify first with FlyDubai, 13 Kerimbekova str., tel. +996 312 319 000www.flydubai.com.

,
Visa
Due to COVID-19 the Swiss Federal Council has decided on 19.03.2020 to suspend the issuance of all Schengen visas until further notice. The Embassy of Switzerland in Bishkek has also suspended the Schengen visa representation for the Czech Republic, France, Slovakia, Slovenia, Estonia, Latvia, Finland and Poland. For details please visit the visa section of this website.
Useful links
Swiss Federal Office of Public Health
Helpline FDFA

+ 41 80 024 73 65
+ 41 58 465 33 33
COVID-19: Swiss support to Kyrgyzstan
The Swiss Cooperation contributes to prevent and respond to the COVID-19 crisis in Kyrgyzstan. It provides assistance to the Kyrgyz Government and operates in close coordination with other development partners and diplomatic representations.
Important update on visa
Following the recent developments concerning the corona virus and instructions of the Swiss State Secretariat for Migration SEM, the Embassy of Switzerland in Bishkek has suspended the acceptance of visas for Switzerland, the Czech Republic , Slovakia, Slovenia, Finland, Poland, Estonia, France and Latvia with immediate effect and until further notice.
Please visit the Website of the Embassy of Switzerland in Bishkek for updates regarding visa handlings.