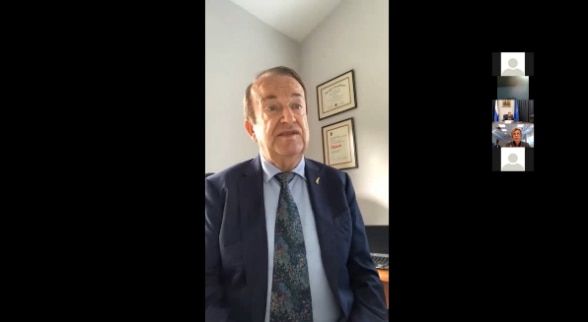 The event was somehow the researchers' answer to the current pandemic since the main topics of discussion included the following: Research in the development and creation of new pharmaceuticals and medical devices; creation of new vaccines for the prevention of viral diseases; efficient interaction of research and business. The seminar was held in a hybrid form (offline and online) and included lectures by leading Russian, Swiss and other foreign scientists who joined it online, as well as by representatives of Swiss pharmaceutical companies active in Russia. It assembled 105 participants.One of the founders of the International Center, Professor Hans Leunberger Honorary Member of the Swiss Academy of Engineering Sciences SATW, greeted the participants from Basel.
The Rector of Mendeleyev University, Professor Aleksandr Mazhuga, noted that the modern pharmaceutical industry demonstrated a dynamic development driven by the new challenges of the coronavirus pandemic. He welcomed the efforts of Russian and Swiss researchers who were working on supercritical technologies to combat the problem. 
The Seminar encompassed ten lectures and presentations. For instance, Academician Aleksey Yegorov of the Chumakov Federal Scientific Center for Research and Development of Immune-and-Biological Products of Russian Academy of Sciences, presented the report «Biological Properties of Whole Virion Vaccines». The acute interest of the participants was also raised by the report of Dr. A.S. Semikhin from the N.F. Gamaleya Research Institute of Epidemiology and Microbiology, "Vaccine Production, Vaccine Sputnik V".
The Swiss companies presented their solutions to drug delivery and packaging: «Microfluidics in Biomedicine and Pharmaceuticals» (Dr. Alexander Herbst, Wingflow AG) and «Multifunctional Packaging Solutions and Innovative Technologies» Stanislav Fradkin, Director General of Rohrer LLC. 
Closing the Seminar, Professor Natalya Menshutina emphasized the importance of a quick and smooth transition of a research product from laboratory to industry to respond to the current challenges, as well as the importance of Switzerland's and Russia's experiences. Based on the materials of the material, Mendeleyev University published a respective book with a selection of reports in English and Russian.