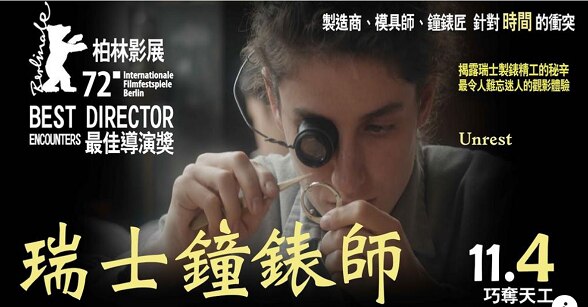 Taiwan film distributor Cineplex Development Co. bought license to release two Swiss films in Taiwan UND MORGEN SEID IHR TOT (And Tomorrow We will Be Dead) and UNRUEH (UNREST).
Directed by Michael Steiner, UND MORGEN SEID IHR TOT follows the true-life story of  the young Swiss couple kidnapped on their journey along the old Silk Road in Pakistan in 2011. They're taken 500 kilometres to warlike Waziristan and handed over to the local Taliban. The two of them live under the most precarious conditions for eight months in hostage, until they finally succeed in escaping from the Taliban, as the only civilians so far.
Cyril Schäublin's film UNRUEH is about anarchist workers in the watch factories of the Jura region in the 19th century when new technologies transformed this town in Switzerland.  Josephine, a young factory worker, produces the unrest wheel, swinging in the heart of the mechanical watch. Exposed to new ways of organizing money, time and labour, she gets involved with the local movement of the anarchist watchmakers, where she meets Russian traveller Pyotr Kropotkin. The internationally acclaimed film, which won Best Director in Berlinale - Internationale Filmfestspiele has also won the Best Picture Prize in Jeonju International Film Festival.
- excerpt from SWISS FILMS
For more showtime information, visit Cineplex's website.