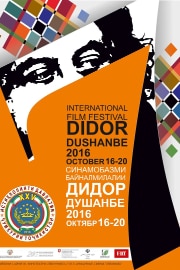 Present Film Festival is dedicated to the famous Tajik film director Bakhtiyor Khudoynazarov who passed away in April 2015, and the opening of the Festival has started with the film screening of his film "Bratan" (Bro).
This year Tajikistan will be represented by two full-length films at the festival "Mushkilkusho" (Breakthrough) of Umed Mirzoshirinov and "Monkey's dream" of Rumi Shoazimom, and one short-length film "Situation" of Dilovar Sultonov. Also two Tajik comedy films "Modern bride-2" and "Air Safar" will be shown in the frame of the Festival.
During the opening ceremony Regina Gujan, a representative of the Swiss Cooperation Office in Tajikistan remarked: "Switzerland very much appreciates what is happening "around the Festival", in particular the possibility for filmmakers and other professionals of the film industry – young and old – to engage, share their experiences, and enrich their knowledge".
In the framework of the project "Echo Didor" best motion films of the Festival will be shown in Khujand, Khorog, Asht, Isfara, Kulob and  Danghara districts . The overall goal of the Echo program is to facilitate exchange and dialogue amongst cinematographers and film directors, as well as to bring films closer to film lovers  all of the four corners of the country.
As a co-founder of the first event back in 2004, it has become a good tradition for Switzerland to be closely linked to the Festival and to contribute this way to set Tajikistan on the map of international film festivals.