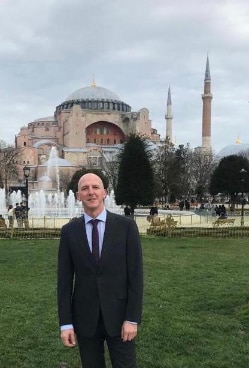 Dear fellow Swiss citizens, dear Friends of Switzerland,
It is a great pleasure and privilege to lead the Consulate General of Switzerland in Istanbul and to offer the best possible services to the Swiss community in Türkiye as well as working for the reinforcement of the bilateral relations between our two countries.
With its unique history and its particular geographical situation, Istanbul, as a world meeting point between continents, is a perfect location to promote business, economy, tourism, education, innovation, art, culture and human understanding. The Consulate General of Switzerland seeks to develop all these sectors of interactions between Switzerland and Türkiye. Our relations are solid in all of Türkiye and continue to expand as shown also by the 6'000 strong Swiss community and the 300 Swiss companies established in the country.
As the Swiss center for visa services in Türkiye, the Consulate General in Istanbul also hosts the Swiss Business Hub dedicated to promote exports to Türkiye and investments in Switzerland. With our additional four Consular posts in Antalya, Gaziantep, Izmir and Mersin, Switzerland is well established in Türkiye.
I am eager to foster our exchanges and also invite you to take a look at our social media pages (Facebook and Instagram).

Julien Thöni
Consul General