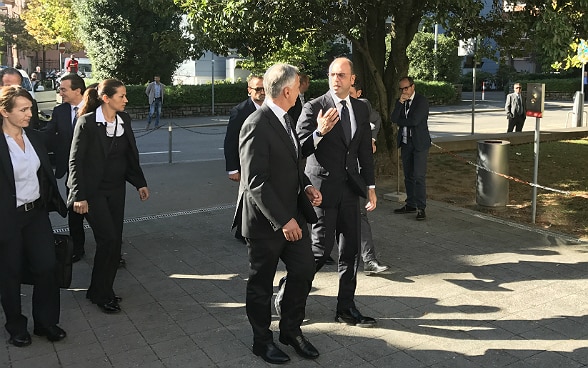 Federal Councillor Didier Burkhalter met his Italian counterpart Angelino Alfano for talks focusing on several pending matters in relations between the two countries and topics of multilateral importance. Switzerland's policy on Europe and current developments in European migration policy were discussed alongside bilateral concerns relating mainly to tax and financial matters and the related agreement on the taxation of cross-border commuters. Questions regarding security policy were also raised with a view to preparing for Italy's OSCE Chairmanship in 2018.
Before their meeting, the two ministers officially opened the fourth "Forum for Dialogue between Italy and Switzerland", taking place over two days – from 9 to 10 October – in Lugano. The forum seeks to strengthen ties and promote a better understanding between the two nations by means of a dialogue on common issues and challenges. It is also a platform for civil society dialogue: this year, the topics for debate by actors from the political, economic, media and cultural spheres include promoting the Italian language, hosting and integrating migrants, industry and transport policy. The forum is held each year, alternating between Switzerland and Italy, and is organised by the Swiss embassy in Italy, the Italian embassy in Switzerland, Limes, the Italian Review of Geopolitics and Avenir Suisse with the aid of partners.
Established in January 2013 in Rome, the Forum for Dialogue between Italy and Switzerland is the result of the desire to create a platform for forging even closer relations between the two countries. On the first occasion of what has now become an annual event, Federal Councillor Didier Burkhalter and Italy's then Minister of Foreign Affairs, Giulio Terzi, signed a declaration setting out the priorities of cooperation between the two states at the bilateral, European, multilateral and international level.
Italy is Switzerland's fifth-largest trading partner, with a volume of trade of CHF 34 billion in 2016. Some 320,000 Italian citizens currently live in Switzerland, forming the largest group of foreign nationals in the country, while another 70,000 Italians cross the border each day to work in Switzerland.  More than 50,000 Swiss nationals live in Italy. The close ties between the two countries are expressed in the bilateral meetings that regularly take place at different levels.
---
Further information:
Speech by Federal Councillor Didier Burkhalter (fr/it)

---
Address for enquiries:
Information FDFA
Bundeshaus West
CH-3003 Bern
Tel.: +41 58 462 31 53
Fax: +41 58 464 90 47
E-Mail: info@eda.admin.ch
---
Publisher: