Embassy of Switzerland in India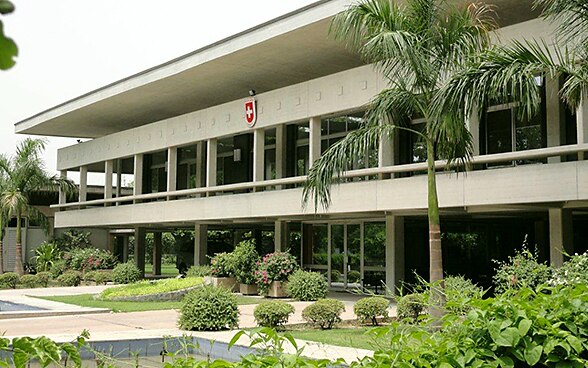 Charter Flight from India to Switzerland – Register today!
English
URGENT: COVID-19 - Charter Flight from India to Switzerland – Register today!
There will be a repatriation flight organised from
Delhi to Zurich
Friday, 10.04.2020, 01h35 (Delhi)
Please register at:
Please note: Movement in India has been restricted due to the coronavirus COVID-19. Public transport service, including buses, trains, domestic flights and taxis has been suspended!
Swiss citizens should try to come to Delhi. For support (laissez-passer, etc.) please contact the Embassy.
To board the plane you have to carry your original passport and if not a Swiss citizen the original and valid residence permit.
Deutsch
DRINGEND: COVID-19 – Charterflug von Indien in die Schweiz – Registrieren Sie sich jetzt!
Es ist ein Repatriierungsflug geplant von
Delhi nach Zürich
Freitag, 10.04.2020, 01h35 (Delhi)
Bitte unter diesem Link buchen:
Bitte beachten: Das Coronavirus Covid-19 hat die Bewegungsfreiheit stark eingeschränkt. Der öffentliche Verkehr, einschliesslich Busse, Züge, Inlandsflüge und Taxis wurde eingestellt!
Alle Schweizer Bürger werden gebeten nach Delhi zu kommen. Für Unterstützung kontaktieren Sie bitte die Schweizer Botschaft (Laissez-Passer, etc.).
Für das Boarding müssen Sie den Original Pass und falls nicht Schweizer Bürger die Aufenthaltsbewilligung (gültig und im Original) vorweisen.
Français
URGENT: COVID-19 – Vol charter de l'Inde vers la Suisse – Enregistrez-vous aujourd'hui! 
Un vol de rapatriement sera organisé de
Delhi à Zurich
Vendredi, 10.04.2020, 01h35 (Delhi)
Enregistrez sous ce link:
Veuillez noter: les déplacements en Inde ont été limitées en raison du coronavirus Covid-19! Le service de transport public, y compris le bus, les trains, les vols intérieurs et les taxis, a été suspendu.
Tous les citoyens suisses sont priés de venir à Delhi. Veuillez contacter l'Ambassade pour assistance (laissez-passer, etc.).
Nécessaire pour le boarding : passeport original, et si pas citoyens suisses permis de séjour valable et en original.
Italiano
URGENTE: COVID-19 - Volo charter dall'India alla Svizzera - Iscriviti oggi!
Ci sarà un volo di rimpatrio organizzato da
Delhi a Zurigo
Venerdì, 10.04.2020, alle 01h35 (Delhi)
Si prega di registrarsi a:
Nota: il movimento in India è stato limitato a causa del coronavirus COVID-19. I trasporti pubblici, inclusi autobus, treni, voli nazionali e taxi sono stati sospesi !

I cittadini svizzeri sono pregati di venire a Delhi. Per assistenza e aiuto (lasciapassare, ecc.) si prega di contattare l'Ambasciata.
Per imbarcarsi sull'aereo dovete portare il passaporto originale e, per non svizzeri, il permesso di soggiorno originale valido.
Repatriation operation of the FDFA
Flight costs
Travellers must pay the cost of a ticket corresponding to the normal market price. The flight will be charged to them after their return. 
Assembly Point
Embassy of Switzerland, Nyaya Marg, Chanakyapuri, New Delhi.
Transport to Airport
Will be organized by the Embassy
Confirmation
As soon as the final list of passengers has been established, the Embassy will contact the passengers by e-mail to give them further instructions. Individuals that could not be taken into consideration will be informed accordingly on how to best proceed.
Baggage
Each person is entitled to one hand baggage of max. 7 kg and one checked baggage of max. 23 kg.
Please contact the Embassy by telephone only in case of an emergency, in order to keep the phone lines as free as possible. We appeal to your solidarity with our fellow citizens who urgently need help or support (medical emergency, etc.). Thank you for your understanding!
Further information
The World Health Organization (WHO) declared the current coronavirus outbreak a pandemic. Currently, there is a risk of infection with the new coronavirus in all regions of the world. Since 16 March 2020, the Federal Council calls on Swiss travellers to return to Switzerland.
Since many travellers can no longer return home independently due to local travel restrictions, the FDFA has launched a repatriation action in cooperation with various airlines. Flights will be announced once the technical issues have been clarified. There is no guarantee that all travellers can be repatriated.
We ask all Swiss travellers abroad to quickly register their details and place of stay on the "Travel Admin App". This will make it easier for us to contact them.
Passengers are required to comply with the general hygiene rules of the FOPH. 
Indian Government information:
Indian Ministry of Health and Family Welfare
Indian Department of Home Affairs - Bureau of Immigration 
Please also follow the recommendations of the World Health Organization (WHO), Swiss Federal Office of Public Health (FOPH), Swiss Federal Department of Foreign Affairs (FDFA) travel advice "Focus Corona Virus"
Federal Office of Public Health (Switzerland)
FDFA Travel Advice, Focus Coronavirus (COVID-19)
Helpline FDFA:
+41 800 247 365
+41 58 465 33 33
helpline@eda.admin.ch
In an emergency, please contact the following number : +91 9811143552