Embassy of Switzerland in Spain
Detailed information can be found on the German, French or Italian page.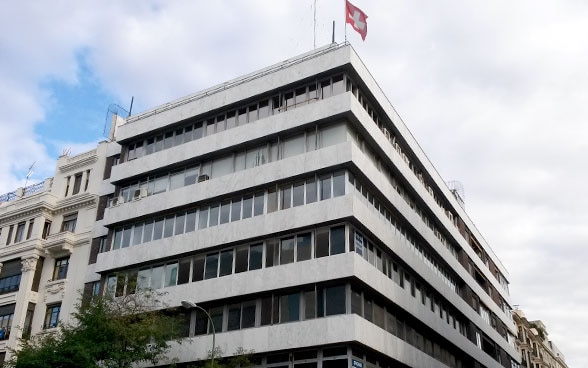 «SWI Plus», the application for Swiss abroad
From 9 August 2021, Swissinfo will launch its daily "Briefing for the Swiss Abroad" in English.
As the official representation of Switzerland, the Embassy covers all matters concerning diplomatic relations between the two countries. It represents Swiss interests in the areas of political, economic, financial and legal affairs, as well as science, education and culture.
Services and visa
From the issuing of passports to civil status matters, the FDFA's foreign representations provide a wide range of services to Swiss citizens living abroad.
The following districts are treated by this Consular Section:
The autonomous regions of d'Andalucía, Asturias, País Vasco, Canarias, Cantabria, Castilla-La Mancha, Castilla y León, Extremadura, Galicia, Madrid, Navarra, La Rioja as well as the autonomous cities of Ceuta and Melilla.
The General Consulate in Barcelona is competent for persons domiciled in:
the autonomous regions of Aragón, Murcia, the Balearic Islands, Catalonia, Valencia
the Principality of Andorra.