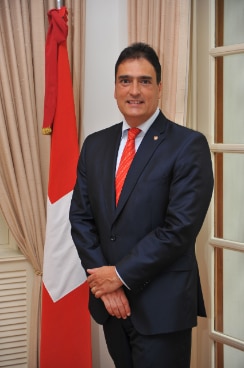 Dear citizens, dear friends of Switzerland,
Ladies and Gentlemen,
Welcome to the website of the Swiss Embassy to Spain and Andorra! The whole team that I have the honour to lead since September 2020, as well as our Consulate General in Barcelona and the network of Honorary Consulates, have the task of maintaining and intensifying the close relations that exist between our three countries. In this context, we are also at the service of our citizens, whether they are established or transiting through Spain or Andorra.
In the recent months, the relations between our three countries, as well as our diplomatic and consular work, have been strongly affected by the health crisis that has shaken not only our societies, but also our private and professional lives. It is important to follow the health recommendations of the competent authorities and to stay informed, especially with regard to the ever-changing travel conditions. In addition, we are working to contribute to the gradual restoration of conditions that allow social life and the many exchanges between our three countries.
As part of this objective and in order to intensify contacts with the Swiss community, we wish to promote communication via social media and I invite you to subscribe to our different platforms: Facebook, Twitter, LinkedIn and the cultural agenda. The information made available to you on these communication channels will, I hope, enable you to better follow the activities of the Embassy and to know the situation and the evolution of the relations between our three countries in the fields of economy, trade, law, research, innovation, education, culture as well as the health situation. They are in addition to the general information that you will find while browsing our website.
Please do not hesitate to contact us with any suggestions, comments or questions you may have. We will do our best to meet your needs.
Happy web surfing and greetings!
Hanspeter Mock
Ambassador of Switzerland