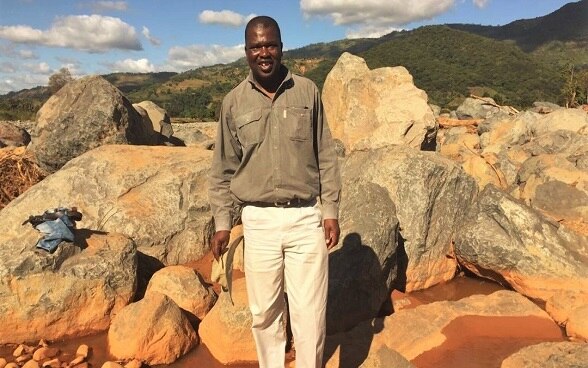 Since Cyclone Idai made landfall on the Mozambique coast on 13 March and hit Chimanimani in Zimbabwe a few days later, images of destruction and devastation dominated the news and social media feeds. The storm inundated eastern Zimbabwe with torrential rain for days, causing deadly floods and millions of dollars' worth of damage.
Almost two months after the cyclone, disaster response has inevitably shifted towards infrastructure rehabilitation and food security risks for the surviving families. The hullabaloo and empathy created in the immediate aftermath of the cyclone is certainly tapering off. People have enough on their minds.
A majority of people, including myself – did not believe the storm would be as bad as it was and as a result evacuation was never well-thought-out. As a result, the overwhelming devastation caused by Cyclone Idai was not just physical with regards infrastructure and peoples livelihoods – it also had a mental effect on the survivors.
With political will and availability of financial resources, infrastructure can indeed be restored fairly quickly, but addressing trauma requires, time and expertise that is not always readily available in many disaster affected communities.
After personally visiting the Kopa area in Chimanimani (one of the hardest hit areas) recently, I made a couple of observations which I thought would be worthwhile to share. Cyclone Idai was the strongest I had ever seen in my lifetime. Talking with survivors, the majority said the first night the cyclone hit seemed like an eternity and the majority thought they were in a dream as their homes, roads and family members were swept away by the rising water as they slept.  
"I am seeing the world with new eyes after this shocking experience. When you see people losing everything from one day to the next, and have only the clothes they are wearing, it cannot help but change you," said one of the survivors in Kopa village while standing in an area surrounded by huge boulders and tree stumps that used to be his home.
By just speaking to the people as we made our way to some of the destroyed homes you could tell how their experience in the few days that followed the disaster has affected them mentally and will scar them for life.
Some, especially children continue to re-experience the disaster through nightmares and/or flashbacks. They now associate any dark clouds in the sky no matter how innocent with a cyclone that can bring destruction and death to their families.
The structural deformation of the landscape – huge boulders where a settlement used to exist, remains a constant and permanent reminder of the horror brought by the flooding for many survivors. A seven year old whose whole family of five just disappeared into the night when their house got destroyed on the fateful night of 16 March remains with foster parents who themselves were not prepared for this additional responsibility. For most children numbing of emotional responses has been their pocket of consolation.
Houses, bridges and roads that stand at a terrifying angle with all supporting land having been eroded remain. Travelling within the area to follow up on cases of those who have been affected remains a mammoth task given the hilly and raggedy terrain.
Open temporary access has been created to many places affected by the cyclone. Food is being delivered including temporary accommodation. The people in the Kopa area however have issues with the challenges brought about by relocation from their now destroyed homes into tented camps.
"I have never stayed in tent all my life, now I am 65 years. I would have preferred to take this tent to my land or my relative house and use it there. The problem is there is no secrecy in the tent, my grandchildren will be exposed to all sorts of bad things if I stay with them in the tent. Anywhere the officials insisted the tent be at this place and whether they are used or not they do not care," said Sekuru Mubaira.
The damage caused by the cyclone and structural changes to the landscape is beyond explanation for many community members. Whether experts cite climate change as the main cause of this disaster, while communities see spiritual forces at play, punishment of some kind by aggrieved spirits while other see fulfillment of biblical prophecy, signs that world is about to end…In the mind of communities, its why us, why denied an opportunity to bury their loved ones as closure among other issues.
The psychological trauma caused by the cyclone make implementation of possible solutions difficult if not impossible. Physical planners have recommended resettlement of the affected people. Regrettably, the communities are not prepared to move even though their banana plantations, which were their main source of livelihood have been destroyed. Some simply refuse to move because their relatives are buried in the area. The graves were however swept away by the flooding.  
At Kopa, children can be seen playing in poorly located temporary but supposedly safe places established for them. There are soldiers, police, officials from NGOs, the private sector and churches that have all descend on the small flood plain that now constitutes the center of activity for everyone including the children. The flood plain that used to be an energetic business centre and the hodge-podge of people threaten not only the safety of children but has potential to increase the incidents of HIV infection and sexual abuse. 
Challenges such as psychological trauma from the cyclone – a specialized field in the development sector that requires soft skills such as Pyscho-Social Support (PSS) has sadly been hijacked by all and sundry, including novice organisations and buccaneers. There is a definite possibility that this could result in more harm than good to the affected communities.
My visit to Chimanimani left me speechless.  Having stayed in the area as a community worker years ago has also left me traumatised. The politicking now characteristic of the area is affecting the effectiveness of responses by specialized and experienced groups in the psychosocial sector.
There is still controversy on the actual numbers of people who died during the disaster. Government has published some figures while communities have their own. The numbers game continue until today. Birth and death registration remains another challenge for the affected communities– people especially children have lost their birth certificates and national identity documents. Without them accessing social services and facilitating the reunification of families is next to impossible.
Healing of the mind should be a major preoccupation of development work in Chimanimani at this juncture.