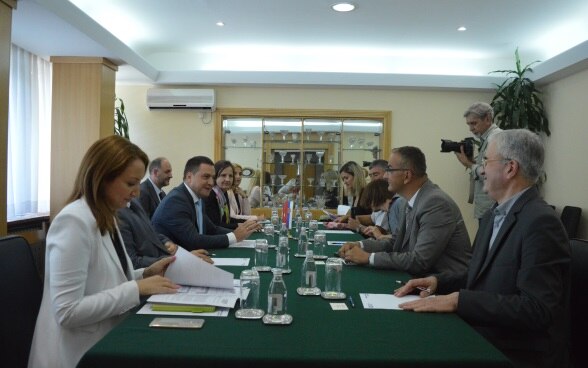 Through the Inter-Municipal Cooperation Fund, established by the Ministry of Public Administration and Local Self-government, four projects have been awarded to establish or enhance inter-municipal cooperation. The first project involves 18 cities and municipalities in the West Morava River Basin that will join forces to better respond to natural disasters and emergencies. The second project is led by Loznica and 7 municipalities in the Drina Basin and will improve natural disaster risk management, while the third one concerning Belgrade and Novi Sad, together with three Belgrade city municipalities, will improve access to services for people with disabilities. Within the fourth project the municipalities of Boljevac and Sokobanja will focus their actions towards the improvement of internal audit systems.
While opening the signing ceremony, Minister of the Ministry of Public Administration and Local self-government, Mr. Branko Ruzic, thanked the Government of Switzerland for its longstanding cooperation and assistance with the challenges of public administration and local self-government reform in Serbia.
Following the Minister's speech, the Director of the Swiss Cooperation Office, Embassy of Switzerland to the Republic of Serbia, Mrs. Ursula Läubli, welcomed the reforms which allowed better inter-municipal cooperation. She shared Swiss experiences and pointed out that supporting local government, as the government tier closest to the people, to become more responsive, accountable and efficient in services provision, is among the priorities for Switzerland.
This initiative, amounting to EUR 104,000, has been realized within the project "Support to the implementation of the Action Plan of the Public Administration Reform Strategy - Local Government Reform 2016-2019", supported by the Government of Switzerland with EUR 1,050,000 in total for the period 2016-2019.