Embassy of Switzerland in Serbia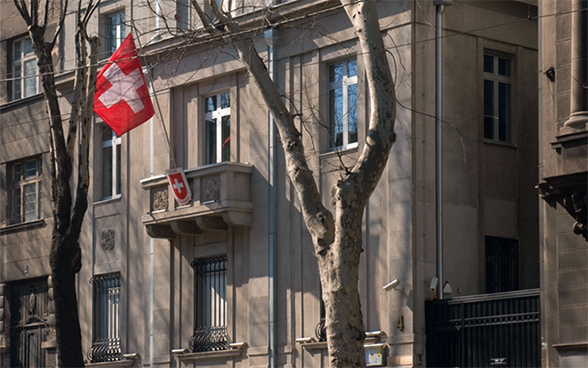 Restricted operation of the Swiss Embassy in Belgrade
Due to three confirmed COVID 19 cases, the Swiss Embassy in Belgrade is temporarily suspending some services at the counter. The embassy is testing all its staff for the corona virus. Until the embassy can resume full operations, employees will be working from home. The consular services can also be accessed via the online-desk.
COVID-19: Switzerland's continuous support to Serbia
Based on our long-lasting partnership, we stand ready to support Serbia in the current crisis with specific means. Switzerland provides up to 600,000 EUR to take immediate actions. In line with our cooperation so far, our focus will be on the most vulnerable within the Serbian society.
The current crisis challenges countries around the globe. Switzerland is one of the hardest hit in Europe. And still, we remain committed to our partner countries, also in the long run. We have been contributing to Serbia's economic and social development so far and we will continue to do so. Once the time has come, we will work side by side with the Government of Serbia to alleviate the social and economic consequences of the current crisis.
Important notice
The visa section of the Swiss Embassy remains closed until June 15th 2020.
For Swiss citizens only: a visit to the counter of the Embassy of Switzerland is possible only with appointment by e-mail: belgrade.termin@eda.admin.ch
Corona virus: restrictions for travelers from Switzerland
On 19 March the Government of the Republic of Serbia has passed additional measures to avert the spread of coronavirus. All border crossings for passenger traffic are closed as of 20 March at 8AM, including air, road, railway and water traffic. A temporary ban has been issued for persons coming from a number of countries, including Switzerland. The Swiss Embassy is in close contact with the Serbian authorities regarding these new developments and carefully assesses the situation. For the Swiss citizens, please carefully read the important notice published above. Citizens wishing to receive more information in relation to COVID-19 are invited to contact either the Ministry of Health of the Republic of Serbia (+381 64 89 45 235

) or the Swiss Federal Office of Public Health (+41 58 463 00 00 ).

General advice

We also recommend that all Swiss nationals in Serbia follow the recommendations of the Federal Office of Public Health (Switzerland), the World Health Organization (WHO), and the FDFA travel advice "Focus Corona Virus (2019-nCOV)":

Federal Office of Public Health (Switzerland)

World Health Organization (WHO)

FDFA Travel Advice, Focus Coronavirus (2019-nCoV), in German, French, Italian
As the official representation of Switzerland, the Embassy covers all matters concerning diplomatic relations between the two countries. It represents Swiss interests in the areas of political, economic, financial and legal affairs, as well as science, education and culture.
Links
Links
Swiss Education, Culture and Arts
Current announcement on advanced studies
Information about Switzerland
Travel
Media
Documents