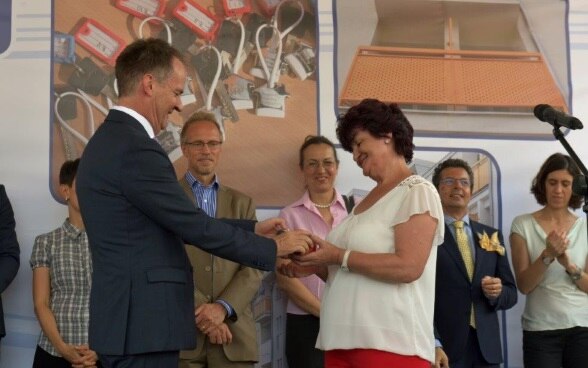 The work carried out cost 7.9 million EUR, and the funds were provided by the Donor Fund of the Regional Housing Program, whose largest donor is the European Union, while the City of Belgrade donated land and infrastructure valued at 226 million RSD. The Commissariat for Refugees and Migration of the Republic of Serbia, as the leading institution, is implementing the Regional Stabilization Program in Serbia. So far, 3'500 families in Serbia have been provided with apartments through the project, and another 3'900 families will get a home before the end of the project, in 2021. 
The families, who had waited a long time for a roof over their heads, were addressed by the First Deputy Prime Minister of the Government of the Republic of Serbia, Minister of Foreign Affairs and President of the Commission for Coordination of the Process of Permanent Integration of Refugees of the Government of the Republic of Serbia Ivica Dacic, and the Commissar for Refugees and Migration Vladimir Cucic. Many officials from Serbia, donors, foreign embassies, international organizations, state institutions and users attended the ceremonial delivery of the keys. 
On this occasion, Swiss Ambassador Filip Guex said: "The regional housing program is an important part of our cooperation with the countries of the Western Balkans. This year, Switzerland identified additional resources for the program and co-chaired the donor forum. For Switzerland it is significant that the program has started at an accelerated pace of implementation, but we are aware that deadlines are challenging. It is of great interest to us that all those who have been waiting for these solutions for twenty-five years get sustainable housing solutions, health care, the right to education and employment. " 
The regional housing program is a joint multi-annual program of the Republic of Serbia, Bosnia and Herzegovina, Montenegro and the Republic of Croatia, which aims to provide permanent housing solutions for the most vulnerable refugee families in the region. It is carried out with the support of the OSCE and UNHCR, and is supported by the funds of several countries including Switzerland.