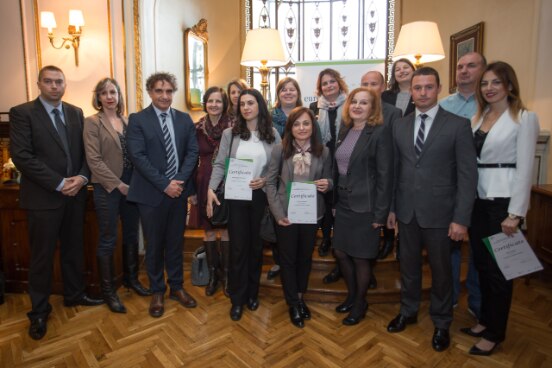 While opening the conference, the Assistant Minister from the Ministry of Mining and Energy in charge of renewable energy sources and energy efficiency, Mr. Milos Banjac, stated that the ministry had already set up an energy management system for Serbian towns and cities with more than 20'000 inhabitants. Mr. Banjac emphasised the importance and great ambitions of the MEEMP which, guided by the EEA approach, will help local governments to improve energy management systems at the local level.
Following the speech of the Assistant Minister, the Director of the Swiss Cooperation Office, Embassy of Switzerland to the Republic of Serbia, Mrs. Ursula Läubli, stated that Switzerland is at the forefront when it comes to the promotion of innovative policies and technologies for the implementation of the global climate agenda. The label "Energy City" was established in Switzerland in 1988 and is now used as the European Energy Award in many countries. "We are introducing the EEA approach to enable Serbian municipalities to implement the national legal requirements in the energy field in a more sustainable and comprehensive way and improve energy management", added Mrs. Läubli.
The conference was attended by Mr. Matthias Nabholz, Head of the Department of Energy and Environment, from the City of Basel, the Secretary General of the Standing Conference of Towns and Municipalities, Mr. Djordje Stanicic, other senior officials of the Ministry of Mining and Energy, the Swiss State Secretariat for Economic Affairs (SECO), members of the Serbian Network of Energy Managers and other national and international guests from partner institutions and projects, from academia and media.
These cities and municipalities have been gathering experiences with the integrated EEA process for over a year. Now they are confirming their commitment to continuously pursue sustainable and ambitious energy and climate targets by officially joining the EEA Association, a recognized quality management and certification system with more than 1,500 participating municipalities all over Europe. 
The project will run until 2021 with a budget of 8.4 million EUR, out of which the grant of the Swiss Government amounts to 7.4 million EUR, while the local authorities themselves will contribute 1 million EUR. For more information visit MEEMP website.