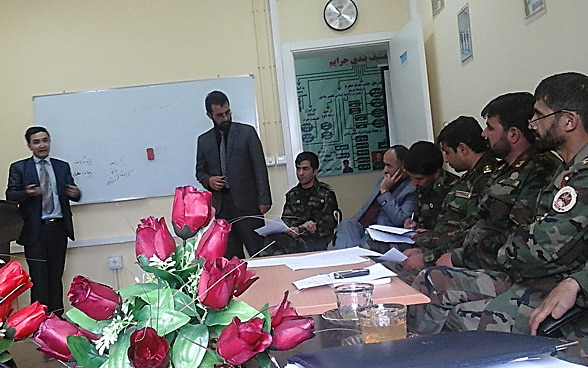 Decent living conditions, access to basic services (health, education, hygiene, justice), no exposure to degrading or inhuman treatment, the right to participate in public life and to speak freely – fundamental human rights cover a very broad spectrum. The SDC supports these rights through the projects it finances worldwide – such as making basic schooling modules available to all, or enabling the poorest to become involved in decision-making at local village level.
The SDC also promotes citizens' fundamental rights by supporting legislative reform processes and helping to facilitate openness in government. Strengthening of the media and civil society is another expression of this approach. In addition, the SDC directly assists the national human rights institutions of half a dozen countries.
From Afghanistan to Qatar
In Afghanistan, Pakistan, Bangladesh, Nepal, Bolivia, the occupied Palestinian territory, and even Qatar, the SDC supports various bodies including committees or commissions, ombudsmen and research institutions. Every national context has its own characteristics, but the basic objectives of national human rights institutions are the same from country to country.
Defending any citizen whose fundamental rights have been violated, and fighting to ensure that the perpetrators of violations are held accountable for their actions
Observing the human rights situation, collecting any useful data on the ground, and informing the authorities and public of instances of discrimination
Helping government bodies to bring national legislation into line with international standards on human rights
Informing citizens of their rights and on how to uphold them
The SDC devotes an average of CHF 2.3 million per year to strengthening the national institutions that its supports – an amount that covers the funding allocations for each institution and, in certain cases, the funding required to provide these institutions with technical experts.
Furthermore, cooperation offices and Swiss embassies are engaged in political dialogue within the countries in question in order to underpin the legitimacy and independence of these bodies. Switzerland is also helping to ensure that international human rights norms and standards are put into practice. As a result, hundreds of courageous human rights defenders are able to carry out their remit on a daily basis.