World on big screen in Nyon
In 2022, the SDC marks another year in its partnership with Visions du Réel, a documentary film festival that is celebrating its 53rd edition from 7 to 17 April. Through this cultural partnership, the SDC enables a wide range of artists from the Global South and East to share their message with an international network of film professionals. Seydou Cissé, a filmmaker from Mali, is one of them.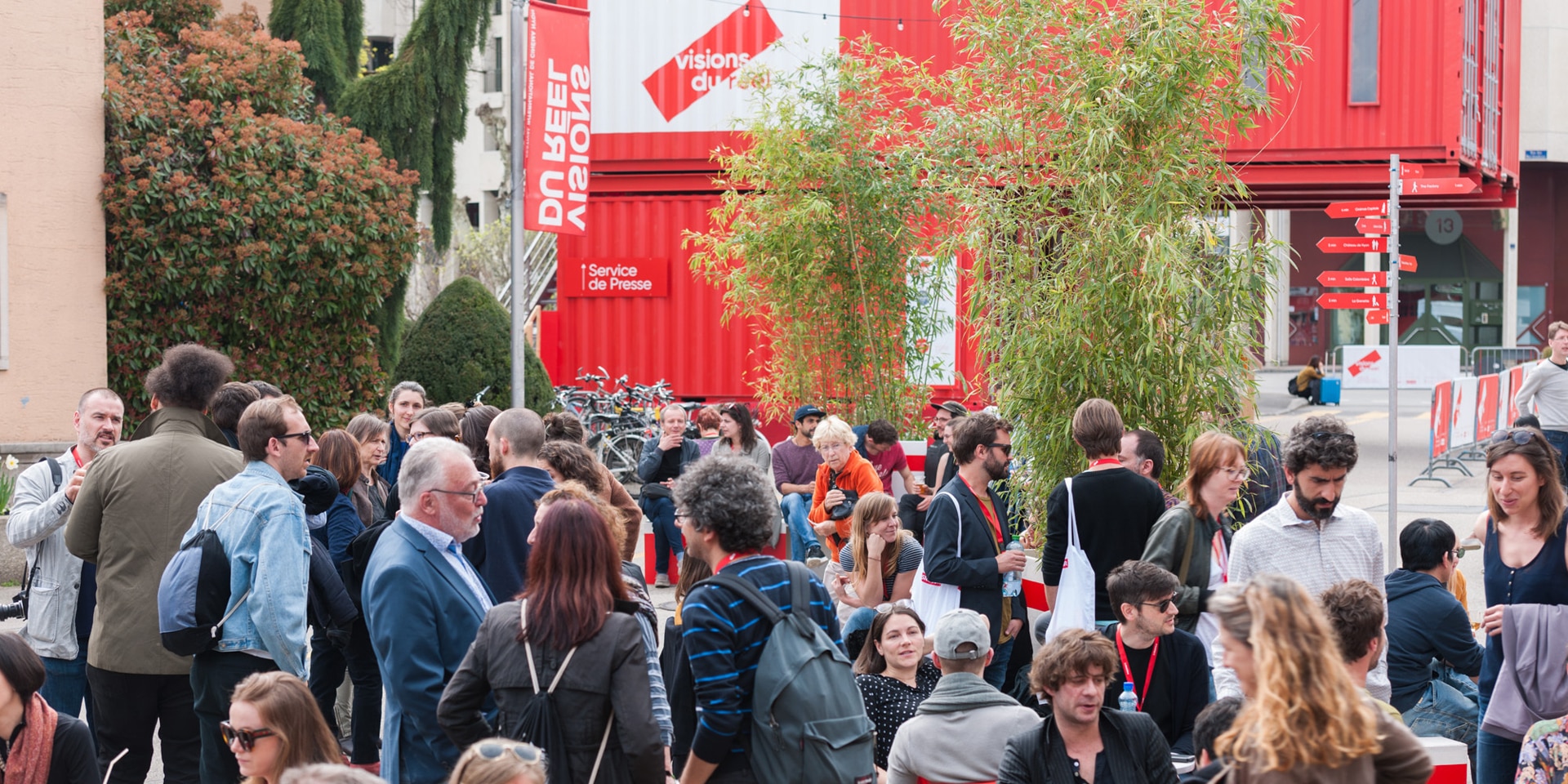 Since 2002, the SDC has supported the festival, which also presents documentaries from the Global South and East. © Visions du Réel
Seydou Cissé's project for Visions du Réel 2021 was selected for Rough Cut Lab, one of the numerous workshops hosted by the festival and throughout the year to promote networking among film professionals as well as project support.
In this workshop, Cissé had the opportunity to talk to different types of professionals about the ongoing editing of his film, as well as to exchange with other teams at the same stage of their project. "As we listened to members of the other teams and shared our own experience, we felt closer to them and less isolated," says Cissé, also thinking of his own journey. Some of the films raised questions that elicited clear responses: I'm thinking in particular of the need to make films accessible to all audiences and all cultures – which I consider essential. 
After the workshop, Cissé's documentary had its world premiere at the International Documentary Film Festival Amsterdam. The film has also been well received in his home country, Mali. "Film professionals in my country were keen to see the film. Mali's national film union added me to its membership roster. I've also received many requests to screen the film at international festivals." 
Cissé's participation in Visions du Réel has opened up opportunities for dialogue at both local and international levels. This is where the SDC comes in. For 50 years, the festival has been an unmissable event for documentary film professionals and filmgoers who are eager to discover new perspectives from around the world.
Art furthers dialogue
"The SDC helps many artists in the Global South and East to build bridges and promote dialogue at regional and international level," said President of the Swiss Confederation Ignazio Cassis at the festival's opening ceremony. Seydou Cissé's story is a good illustration of the objectives the SDC seeks to achieve through cultural partnerships such as with Visions du Réel. These partnerships aim to introduce filmmakers and producers from the Global South and East to the Swiss public and to launch them onto the international market. 
Helping film professionals to gain exposure and secure revenue streams also ties in with the broader goal of strengthening local arts scenes. "The countries where the SDC operates have limited resources to promote art and culture," explains Rudi von Planta, head of culture and development at the SDC. The SDC promotes artistic creation, training and access to art and culture for local communities. A platform like Visions du Réel meets these needs.
"Our discussions with SDC staff are extensive and very productive. They contribute in a variety of ways to our projects in these countries. They also enable us to meet their needs in a more targeted way," explains Emilie Bujès, the festival's artistic director. Giving a voice to artists from the Global South and East is a shared objective of both the SDC and Visions du Réel. "About 3,000 films are submitted to the festival each year. This year's official selection features 124," says Martine Chalverat, the festival's director of operations.
In 2022, 33 out of 124 films (27%) are from countries in the Global South and East. Sixteen of them are from SDC priority countries. The selected documentaries address recurring themes, such as family, returning home, and migration. "The filmmakers explore major local and international challenges that have left a mark on their artistic development. What's clear from this is that promoting art and culture contributes to the achievement of sustainable development objectives. Switzerland's engagement helps create a better understanding between peoples", adds Rudi von Planta. 
New Visions du Réel workshop
It was thanks to support from the SDC that the VdR-Development Lab programme was launched. "Helping professionals who want to take part in this type of activity to equip themselves to compete internationally is crucial," says Emilie Bujès. The mission of the VdR-Development Lab is to offer a coaching, mentoring and support programme to enable filmmakers to produce content – for example, a trailer – over a one-year period and to take part in specific events in the festival. It also awards a grant to equip professionals from disadvantaged countries to tackle the next challenge, which is to compete on the international circuit.
In a globalised world, it is vital that artists from the South and East have a stronger voice. Such artists will be making their voices heard this April on the screens in Nyon.