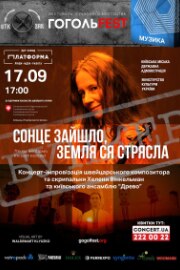 Concert-improvisation "The sun went down, the earth trembled" of the Swiss violinist and composer Helena Winkelman with the authentic ensemble "Drevo". More info on Helea Winkelmann here.
The Embassy of Switzerland in Ukraine is one of the main contributors to the festival. GOGOLFEST is the only international multidisciplinary festival of contemporary art in Ukraine and takes the audience through the most significant achievements in theatre, music, dance, visual arts and design, both Ukrainian and international. It opens the door to the international art scene for young Ukrainian artists.
More information and festival's program can be found here.