Assistant Director General, Ambassador, Head of Thematic Cooperation Division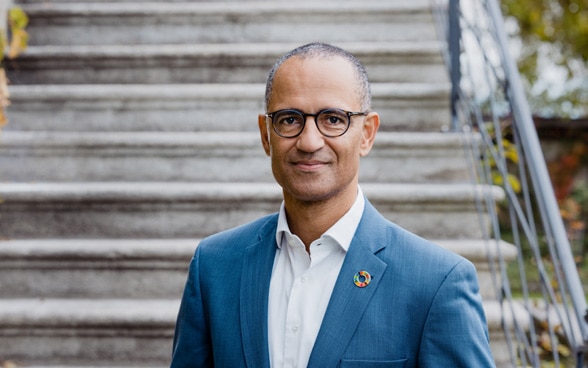 Ambassador Christian Frutiger is Assistant Director General and Head of Thematic Cooperation. He is responsible for the seven thematic sections of SDC, working towards the fulfillment of the 2030 Agenda for Sustainable Development.
Under his leadership, the Thematic Cooperation Division is determined to take bold and transformative steps to tackle the numerous short, mid and long-term challenges we are currently facing. Swiss Thematic Cooperation is composed of seven focus areas: Economic Development and Education, Health, Food Systems, Migration and Forced Displacement, Water, Climate, DRR and Environment, as well as the Peace, Governance and Equality Section.
Christian took up his current responsibilities on 1st September 2022. From 2019 to 2022 he was heading Global Cooperation at SDC, which included five thematic sections, Switzerland's support to the UN and the World Bank, plus the SDC's Strategy Team. Before joining SDC in 2019, Christian worked at the International Committee of the Red Cross in a number of field and headquarters positions, as well as in the private sector. He has a Bachelor of Arts in Russian, English and Political Science and an Executive Master in Communications Management. He speaks German, English, French, Spanish and Russian.